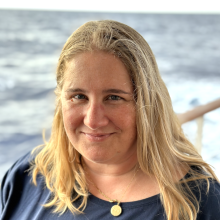 Deborah Smith
She/Her
Mapping Coordinator
Data Governance Manager
OECI-URI/GSO
Tell us about your work/research. What kinds of things do you do?
I work with the Director of Ocean Exploration Cooperative Institute (OECI) and affiliate institute Principle investigators to create and implement data management plans for ocean exploration projects. OET is one of those affiliated institutes.  We work to collect and make publicly available data and research results.
What sparked your initial interest in your career?
I grew up in Rhode Island near the ocean. During high school, I had a number of teachers in science that showed me a passion for science and learning. This lead me to attend Maine Maritime Academy where I received a Bachelors's in Marine Science. While at Maine Maritime I worked for the school as a student marine technician. My interest in science has always been in a technology and support direction. I thought I would be a Marine tech out of college, however, a 15 year detour in a career in hydrography would come first before working on an international research ship as a marine tech. That position took me around the world, and introduced me to new and exciting ways and technology to explore the ocean. Now I get to work with scientists ashore to help make data more assessable to the other scientist and the public.
Who influenced you or encouraged you the most?
My high school physical science teacher was incredibly passionate about plate tectonics and that passion was contagious. My early love as most young peoples are for the ocean was in marine mammals, but her interest in something other and new was exciting to learn from.
What element of your work/study do you think is the most fascinating?
Exploration is exciting and always brings new questions forward to ask. Helping scientists either in the field or back in the lab with the data they collect is another way to explore for answers to those questions.
What are your degrees and certifications?
Bachelor of Science in Marine Science - Maine Maritime Academy 2002
What are your hobbies?
Sailing (racing), TV, Family, cooking.
What advice would you give someone who wants to have a career like yours?
Don't pass up opportunities to get out to sea and explorer different careers early in your search. There are lots of ways to get involved in ocean exploration, be open to learning new things, be kind, and be helpful.
Expeditions
Deborah participated in the following Ocean Exploration Trust expeditions: