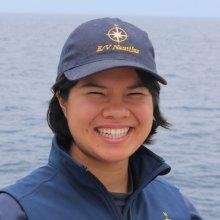 Deborah King
Navigation Intern
Cadet
United States Coast Guard Academy
Tell us about your work/research. What kinds of things do you do?
I am currently a cadet at the Coast Guard Academy studying physical and chemical oceanography in the Marine Environmental Science major. During the academic year, I'll take classes like organic chemistry and meteorology. However, during the summer, I focus on Coast Guard specific skills such as being aboard cutters and additional academy training. 
What sparked your initial interest in your career?
I grew up five miles from the Air Force Academy and realized that I wanted to serve in the military at an early age. I also grew up in the Rocky Mountains and developed a passion for the environment and a desire to explore and discover. A career in the Coast Guard fulfills all three passions because I'll be able to serve America, protect the environment for future generations, and travel.
Who influenced you or encouraged you the most?
The people who encouraged me most were my role models in Jane Goodall, Rachel Carson, and Nikola Tesla. All three were people who thought outside the box, used their talents for good, and were not afraid to push the limits.
What element of your work/study do you think is the most fascinating?
The most fascinating element of my work would be anytime I am underway. While I was underway, I have had experiences that most people only read about. This includes seeing meteor showers on the open ocean, watching dolphins swim in bioluminescence algae, and see four great white sharks up close. Words cannot describe how wonderful it is to be on the water.
What other jobs led you to your current career?
Being a cadet is my first job. At USCGA, I've had to learn to adapt to different stressful situations and wear many different hats. This includes student, trainer, follower, leader, sailor, athlete, and teammate. Most importantly though, I've learned how to fail. Oftentimes at the Academy, you won't succeed the first, second, or even third time. What matters is how persistent you are and how determined you are to grow.
What are your degrees and certifications?
Basic Damage Control and Rules of the Road Exam
What are your hobbies?
I love rock climbing, hiking, and running obstacle courses. At the Academy, I've done sailing, water polo, and the Ranger Challenge.
What advice would you give someone who wants to have a career like yours?
I would say to rely on your friends, be a team player, be creative, and never, ever give up. Don't let failure get to your heart or success get to your head.
How did you get involved with the Nautilus Exploration Program? How did you get on the ship?
The Coast Guard Academy offers many internships to its cadets for summer assignments. I had heard of other cadets sailing on Nautilus and knew it was something I'd like to do. Working on a research vessel has been one of my life goals. I applied for the position of Navigation intern due to my experience at the Academy.
Expeditions
Deborah participated in the following Ocean Exploration Trust expeditions: