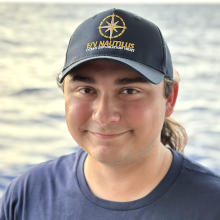 Darrall Tillock
He/Him
Video Engineering Intern
Undergraduate
Middle Tennessee State University
Tell us about your work/research. What kinds of things do you do?
I specialize in live video production in other words multi-cam. I work with cameras, lighting, and staging for live events on and off-location. I can be responsible for working on-site as a single event technician supporting a lecture in a classroom to working with a team at a large-scale concert production. I have also worked as a Sports Camera Operator. Repairing lights and cables is a fun challenge.
What sparked your initial interest in your career?
When I first started college, I was unsure of what I wanted to do for my career. It wasn't until the COVID shutdown presented an opportunity in the form of live-streaming church services. I was asked by the minister to volunteer to help develop a small live stream setup into an actual studio. This volunteer work developed into a passion for live video production. My academic experience as well as my employment with True Blue Event Productions has helped me develop problem-solving skills while using a mobile setup. I love the challenge of learning new things with the passion of putting them into practice and passing that knowledge through live video production so that others can learn and, in some cases, entertain them.
Who influenced you or encouraged you the most?
My parents and my friends at church really encouraged me to transfer to Middle Tennessee State University from Volunteer State Community College. I believe that was the best advice they could have given to me because MTSU has a really good live video production program and the opportunity to work live events to gain a lot of experience.
What element of your work/study do you think is the most fascinating?
The most fascinating thing I have done recently was building a computer primarily using parts that I found at a solid waste transfer station. I was able to repair and build a fully functioning computer, that I am currently using to write this paragraph. I am glad that I was able to prevent computer parts from entering the landfill.
What other jobs led you to your current career?
I've had many great opportunities to work/volunteer. One of the places I volunteer is a church that has a very nice live production studio. I have learned a lot from working during service. My responsibilities during Sunday morning services include Camera Operator, Graphics Operator, and Director / Technical Director on a rotational basis. This has been a very good opportunity to learn all that goes on behind the scenes of live video production.
What are your degrees and certifications?
Bachelor of Science in Live Video Production - Middle Tennessee State University. I am expecting to graduate in the fall of 2024.
What are your hobbies?
I love building computers out of spare parts and gaming on them. I also like making hobby films with friends.
What advice would you give someone who wants to have a career like yours?
If you are planning on going into live video production as a career, I would suggest volunteering and getting involved. A bad experience is better than no experience.
How did you get involved with the Ocean Exploration Trust?
I applied for SEIP after learning about the program from Mary Nichols, a mentor on my campus who had been involved in the Corps of Exploration for many years.  My interest in oceans came up as we worked together in the TNDV mobile studio for a Judds concert on the MTSU campus.
Expeditions
Darrall participated in the following Ocean Exploration Trust expeditions: