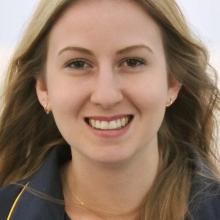 Darcy Joyce
Data Logger
Syracuse University
Darcy will be working as a data logger on the Nautilus. In the future she will use research data collected at Gorringe Bank off the west coast of Portugal to begin work on her senior thesis.
This is Darcy's first research expedition and will lead into her first independent research project. Darcy is a member of the Geology Club at Syracuse University, and also a student member of AAPG.
Darcy Joyce is in her third year of study as an Earth Science major (B.S.) and English and Textual Studies minor at Syracuse University. After receiving her Bachelor's of Science from Syracuse University, anticipated May 2013, Darcy hopes to attend graduate school to continue her education in Solid Earth Sciences.