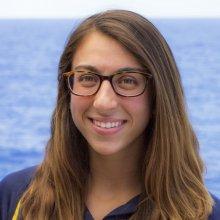 Danielle Ferraro
Ocean Science/Mapping Intern
Graduate Student
University of Delaware
Danielle Ferraro is a master's candidate of Oceanography at the University of Delaware's Coastal Sediments, Hydrodynamics, and Engineering Lab. Currently, she is investigating incidental mortality of scallops as a result of dredging using a combination of a commercial scallop dredge and an autonomous underwater vehicle (AUV). She hopes that the results of the project can be used to more effectively manage the fishery. Danielle is generally interested in the ways humans have influenced the oceans and the impact they may have on ocean fauna and their habitat. 
Danielle Ferraro completed her undergraduate degree at the University of Delaware in environmental and marine science in 2013. 
"I am excited to join the Nautilus team because there is still so much yet to be seen of our oceans, and we are lucky enough to be at the forefront." 
Expeditions
Danielle participated in the following Ocean Exploration Trust expeditions: