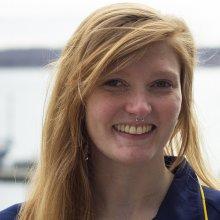 Danielle Bailey
Science Communication Fellow
Marine Education Specialist II
The University of Southern Mississippi
Tell us about your work/research. What kinds of things do you do?
I am an informal marine educator, I teach, create lesson material, coordinate educational programs, and write reports. I work with all ages from within my community and beyond to explore our environment, encourage stewardship, and excite people about science. I focus on creating engaging lessons and material about our marine environment to bring a love of learning, exploring, and the excitement of science to everyone. I work with school groups, teachers, and scientists, to communicate the importance of our environment.
What sparked your initial interest in your career?
I absolutely love sharks. They have always been a fascination of mine and as I learned more about them and the ocean I wanted to share what I love and my enthusiasm for the ocean with others. The ocean and its creatures have been a constant role model for how to adapt to challenges and be creative. There are amazing creatures that we can only imagine and they inspire medicine, engineering, design, fashion, and cuisine. As I learned more and more though biology classes, college, grad school, and many scientists who have mentored me I wanted to share the passion and drive of this community.
Who influenced you or encouraged you the most?
My parents, who have always encouraged me to learn and investigate anything that excited me. I could choose any path I loved and they helped me grow every step of the way. My friends who have supported me through school and challenges, without whom I would never had kept up my determination to become a scientist.
What element of your work/study do you think is the most fascinating?
The most fascinating element of my work is constantly learning new science. I get the opportunity to learn about life-changing events (for humans or ocean creatures) and bring that to students of all ages. 
What other jobs led you to your current career?
I have had many wonderful opportunities to intern and get hands-on experience in my university's shellfish hatchery, the Bimini Biological Laboratory, NOAA's Apex Predator Program, and Mote Marine Laboratory. From there I wanted to continue my career and received a Masters degree while working with The Center for Fisheries Research and Development at the University of Southern Mississippi. The outreach work I did during my masters inspired me to continue in the education field and lead me to volunteer, and then work at the Marine Education Center.
What are your degrees and certifications?
Bachelors of Science in Marine Biology - Roger Williams University 2013; Masters of Coastal Science - The University of Southern Mississippi 2017;
Lifeguard/AED/first aid; community emergency response training; 
What are your hobbies?
I love learning new things through documentaries or reading books. I also do heavy metal yoga, dance around my kitchen, explore new outdoor places, and draw.
How did you get involved with the Nautilus Exploration Program?
I learned about the Nautilus Exploration Program from a presentation Dr. Ballard gave at my university and was hooked from the start. I wanted to be an explorer and observe the ocean. "What's down there?" has always been a question on my mind. The opportunity to explore for curiosity's sake lead me to apply to be a Science Communication Fellow and share exploration about our own planet.
What advice would you give someone who wants to have a career like yours?
Do it! It's so much fun. You've got to put in some hard work but work never feels like work (ssh don't tell everyone). I get to enjoy every day holding sea creatures, or teach kids, or explore a new subject to connect my community. It takes determination and effort but it's a wonderful way to explore life. Talking to people in the field has helped me the most, so my suggestion to new scientists and explorers is to get involved. Ask everyone what they love about their job, keep learning about what drives you, and go to museums, science centers, professional conferences and meet the people behind the exhibits. I've never found someone that doesn't want to talk about the work they do. Reach out send an email or tweet and see where it leads.
Expeditions
Danielle participated in the following Ocean Exploration Trust expeditions: