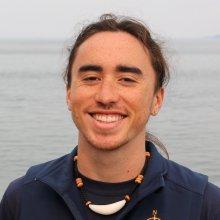 Daniel Cespedes
Science/Data Team, Communications
Multimedia Producer
Oregon State Productions, Oregon State University
Tell us about your work / research. What kinds of things do you do?
I'm a video producer with a specialization in audio and music production. I've been working as a full-time producer for the Oregon State Productions group for one year, where I have a wide range of responsibilities from the concept development stage, to field production and post production editing. Additionally, I help the other producers with their final audio mixes and masters.
What sparked your initial interest in your career?
Like most 90s kids, I was exposed to movies and TV at a young age. When I was old enough to get my hands on the family camcorder, I was fluent enough with the language of video that it came fairly naturally to me and my brother as a way to explore our creative ideas. After moving to Oregon's Willamette Valley, I met some friends in high school who had similar ambitions with filmmaking. We eventually got our hands on our first Canon T2i, we had the tools to start entering (and sometimes winning!) local and international short film competitions.
Who influenced you or encouraged you the most?
Most of my friends and I didn't grow up around adults who were into creating art, music, or films. The most faithful source of inspiration and creative energy we had was from each other, always trying to push the boundaries of our equipment and environments to see how professional we could get our videos to look on a little-to-no budget.
What element of your work / study do you think is the most fascinating?
Most often our higher profile work is science communication at its heart, through the medium of video. The essence of our responsibility is to accurately articulate the science of a research project to a larger audience in an effective and engaging way. I personally find a very rewarding process to tell the story of these efforts through a concise and compelling visual language in order to amplify the inherent value of these scientific discoveries to digital audiences.
Most recently, another producer and I traveled to Orpheus Island in Australia to tell the story of the Aboriginals and Torres Strait Islanders in Marine Science program. In the program, we saw traditional lifeways intersect with tenets of western marine science to provide opportunities for indigenous youth and help chart the path to a more sustainable future.
What other jobs led you to your current career?
I've worked in documentary-style filmmaking in many settings across the United States as well as the Marianas Islands in the western Pacific Ocean. Additionally, I worked on the animated feature film "Kubo and the Two Strings" at Laika Studios in Hillsboro, Oregon from 2014-2016.
What are your degrees and certifications?
I earned my Bachelor of Arts degree with honors in a self-designed major titled Visual Storytelling at Oregon State University in 2014.
What are your hobbies?
I'm a Highland bagpiper of 12 years and I hand-tailor traditional Scottish clothing from the early-mid 18th century. I also sing and write/produce music under the name 'p!pes.'
What advice would you give to someone who wants to have a career like yours?
Technology will always become outdated, but good storytelling is timeless. Finish your projects even if you don't think they're good, and always believe that the story you can tell with the tools you have is one worth seeing come to life.
How did you get involved with the Nautilus Exploration Program? How did you get on the ship?
Our regular work with the College of Earth, Ocean, and Atmospheric Sciences at Oregon State led to see our services recruited for Loren Davis' research work on the Heceta Banks region of the Oregon Coast. I will be joining Loren Davis' team as a video documentarian for the journey.