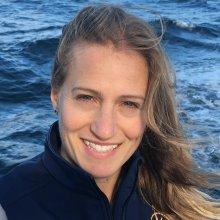 Dana Manalang
Science/Data Team
Engineer
University of Washington
Tell us about your work/research. What kinds of things do you do?
I manage instrument operations and maintenance for the OOI Cabled Array and work as a systems engineer for other ocean sensing platforms and instruments. In my free time, I'm publishing a children's book titled, "ROPOS and the Underwater Volcano," based on some of our past ROV operations at Axial Seamount.
What sparked your initial interest in your career?
I've always been fascinated by the ocean. While I initially thought I'd pursue ocean science, I gravitated towards the more technical aspects of engineering when I was in college.
Who influenced you or encouraged you the most?
I don't think I could name just one person. My family, teachers, co-workers, and supervisors have always been encouraging and a great support system throughout my schooling and career.
What element of your work/study do you think is the most fascinating?
I'm especially interested in remote persistent robotic systems in the ocean and recently helped to host a workshop focused on science applications of Resident Autonomous Underwater Vehicles.
What other jobs led you to your current career?
I have held system development roles across multiple industries, including ocean instrumentation, wireless sensor networks, semiconductor processing equipment, and defense. While the industries I've worked in are diverse, the basic principles of system development and testing remain the same.
What are your degrees and certifications?
BS Ocean Engineering - Florida Tech 1998; MS Electrical Engineering - UC Berkeley 2000
What are your hobbies?
Spending time with my family is the best! Especially my 8-yr-old twin daughters. I also enjoy running, swimming and kickboxing whenever I get a chance.
What advice would you give someone who wants to have a career like yours?
Many disciplines can lead to careers in ocean system development, including electrical engineering, mechanical engineering, and computer science. My advice, in addition to developing technical skill sets, is to seek out opportunities to get exposed to the type of work that interests you - look for internships and volunteer opportunities, and reach out to professional organizations and people already working in the field. Getting early experience will help you figure out what type of work you enjoy, not to mention looking great on your resume!
How did you get involved with the Nautilus Exploration Program? How did you get on the ship?
I connected with the Nautilus team while following up on opportunities to recover meteorites that recently fell off the WA coast.