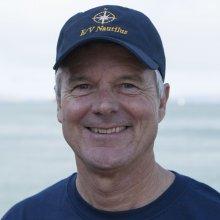 Dan Howard
Science/Data Team
Superintendant
Cordell Bank National Marine Sanctuary
Tell us about your work / research. What kinds of things do you do?
I have worked on the north coast of California since 1980. Initially as research fisheries biologist with NOAA Fisheries us9ing SCUBA to study nearshore communities in a coastal upwelling ecosystem from 1980 to 1995. In 1995, I started working for Cordell Bank NMS and in 2003 was hired as the superintendent. As the superintendent, I manage our research, education, and resource protection programs. 
What sparked your initial interest in your career?
Attended a career day presentation while in college and started volunteering at the National Marine Fisheries Service laboratory. I loved the work and went on to get a degree in Fisheries Biology. Started working at the Fisheries lab when I graduated from college. 
Who influenced you or encouraged you the most?
My first supervisor who was a taxonomist, diver, boat operator and could fix anything.
What element of your work / study do you think is the most fascinating?
Having the opportunity to work with a diverse group of people from all walks of life to protect our oceans and keep sanctuary ecosystems healthy. 
What other jobs led you to your current career?
Working with National Marine Fisheries Service for 15 years
What are your degrees and certifications?
BS in Fisheries Biology from Humboldt State University
What are your hobbies?
Hiking, camping, skiing, outdoor activities. Play harmonica in the family band.
What advice would you give to someone who wants to have a career like yours?
I think it is important to develop skills outside the mainstream of your primary career objective. You never know what skills might be necessary for a certain position - and always volunteer if there is an opportunity. 
Expeditions
Dan participated in the following Ocean Exploration Trust expeditions: