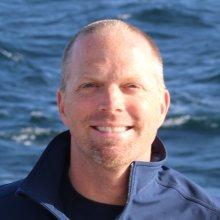 Curt Whitmire
Scientist Ashore
Information Technology Specialist
Northwest Fisheries Science Center, National Marine Fisheries Service, National Oceanic and Atmospheric Administration
Tell us about your work / research. What kinds of things do you do?
At the Northwest Fisheries Science Center, I provide technical and analytical support for several programs in the Fishery Resource Analysis and Monitoring Division, conducting spatial analyses of data associated with Pacific coast groundfish surveys and assessments. Collaborating with scientists across NOAA, other federal agencies, and at academic research institutions, I help plan and conduct research expeditions using the Center's bottom tracking, autonomous underwater vehicle, contracted remotely-operated vehicles, and other advanced sampling technologies. I participate regularly in field research operations, help select dive sites, write mission plans, and process vehicle navigation data. I am also part of a national working group on deep-sea corals and other biogenic structure-forming invertebrates, helping to inform conservation efforts of these vulnerable marine ecosystems.
What sparked your initial interest in your career?
I've always been fascinated by nature. While studying biology at Arizona State University, long holiday weekends brought me time to explore the southwestern United States, and that inevitably brought me to southern California. There I was first exposed to the coastal ocean and some of its wonders. After getting my undergraduate degree, I promptly moved to San Diego, got certified to dive, and began exploring the underwater world. Those first excursions below the surface of the ocean got me hooked, and I've been exploring seafloor habitats ever since.
Who influenced you or encouraged you the most?
I've had many mentors in my life, but the ones who have encouraged me the most have been the same colleagues I've been working with the past two decades. I've been privileged to work with many great scientists and resource managers, all who are dedicated and passionate about conducting sound science and effectively communicating it to their colleagues and the public at large.
What element of your work / study do you think is the most fascinating?
The most exciting part of my work is using advanced survey technologies to observe benthic and demersal organisms in their habitats. Autonomous and remotely operated vehicles provide us an amazing window into their world and have been part of many of the seminal discoveries of the last 50 years possible. I sometimes have to pinch myself that I get to witness some of the oceans' great mysteries.
What other jobs led you to your current career?
After college, I volunteered for a number of years at the Birch Aquarium at Scripps in La Jolla, California. Being affiliated with Scripps Institution of Oceanography gave me a few opportunities to volunteer on offshore research expeditions. Despite dealing with long hours on shift and getting a little wet, I fell in love with working at sea and experiencing sea life in their natural habitat. Before starting my graduate work, I was privileged to participate in a NOAA Ocean Exploration cruise aboard the NOAA Ship Ronald Brown. On that cruise, I had my first exposure to working with remotely operated vehicles (ROVs) and was mesmerized by the images coming up the wire from the ocean floor. The rest, they say, is history, and I've been going out to sea using advanced survey technologies to explore seafloor habitats for the last 20 years.
What are your degrees and certifications?
Master of Science in Marine Resource Management – Oregon State University 2003; Minor in Fisheries Science – Oregon State University 2003; Minor in Earth Information Science and Technology – Oregon State University 2003; Bachelor of Science in Biology – Arizona State University 1997; NOAA Scientific and Working Diver
What are your hobbies?
I love backpacking, hiking, volleyball, basketball and socializing with family and friends. I also explore the nearshore marine world by diving as often as I can.
What advice would you give to someone who wants to have a career like yours?
If you enjoy solving problems and like to work at sea, then a job like mine is right up your alley. In order to solve problems, one needs a variety of training and experience. Take courses in computer science, statistics, and geographical information systems. "Data science" is the new buzz-word for a career that integrates all of those skills. And most importantly, never stop thirsting for more knowledge. I learn something new each and every day, and that's a big reason my career gives me so much satisfaction.
How did you get involved with the Nautilus Exploration Program? How did you get on the ship?
My first OET cruise was in 2017 in the Olympic Coast National Marine Sanctuary, exploring some of the submarine canyons offshore Washington state. I've been a scientist ashore since then, and have enjoyed participating remotely in a number of cruises off the U.S. West Coast. I'm really looking forward to being involved in this year's expedition!