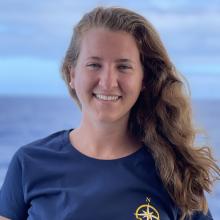 Colleen Walsh
Seafloor Mapping Intern
Geospatial Analyst/Flight Sensor Operator
Dewberry
Tell us about your work/research. What kinds of things do you do?
I specialize in map creation and sensor operation. I work on a wide range of mapping projects from shoreline change to city planning. My favorite part of creating maps is the high-level of collaboration that has to take place in order to get a project completed to specifications by the deadline. I always learn new techniques and aspects of my job that I would otherwise miss out on if I worked independently. The best part of my job is field work because I get to immerse myself in the area and have a better understanding of what I'll be looking at on the computer. It brings to me locations that I would've never thought to visit. In sensor operations, I get to fly in small planes (think sky diving sized) over land and sea to collect the initial data that everyone on my team will be working on. I get a great sense of pride from providing my teammates with a clean base map.
What sparked your initial interest in your career?
From a young age I told everyone around me that I was going to be a marine biologist and save the oceans. In college, I realized that biology and chemistry were not my strong suits, but communication was. It wasn't until taking a Geographic Information Systems course that I knew mapping and aggregating data in a way that is consumable by the average person was how I could affect the most positive change. The transformative power of a map tends to be overlooked, a good map has no language barrier. All life is tied to the health of our waterways, so to be able to collect, compile, and disseminate data in a meaningful way makes me feel fulfilled.
Who influenced you or encouraged you the most?
My dad was instrumental in both nurturing my love for the ocean and seeing the value of a good map from an early age. Two of my mentors from my bachelor's degree, Jeff Felardo and Paul Hindsley, helped develop my technical skills and refine my professional interactions in a way that is hard to put into words but am forever grateful for.
What element of your work/study do you think is the most fascinating?
The most fascinating aspect of my work is operating a Coastal Zone Mapping and Imaging Laser while flying low to the ground (~1,200 feet) in small airplanes. My first project on the plane was mapping my current home waters of Tampa Bay, which will always hold a special place in my heart.
What other jobs led you to your current career?
I've earned several great opportunities in my journey that have culminated in my hiring at my current position. These jobs include coral reef restoration specialist, coastal planning surveyor, National Estuarine Research Reserve ambassador, wakeboard instructor, teaching assistant, waterway sanitation specialist, and boat technician. I also have held several jobs that didn't directly involve the environment, but I gained valuable skills in terms of teamwork, communication, and problem-solving through my time as a sales associate, volleyball coach, and barista.
What are your degrees and certifications?
Bachelor of Arts in Environmental Studies and Coastal Management -- Eckerd College 2017; Masters of Science in Coastal and Ocean Policy -- University of North Carolina Wilmington 2020; CPR/First Aid; PADI Open Water Diving
What are your hobbies?
I enjoy roller skating in both parks and trails as well as hiking and wakeboarding.
How did you get involved with the Ocean Exploration Trust?
I applied for for SEIP after being encouraged by my master's mentor to focus on gainful employment opportunities that excite my soul, not just ones that align with my skillset.
What advice would you give someone who wants to have a career like yours?
If you want to have a career in geospatial mapping, non-technical skills are just as important as technical. Developing strong communication and collaboration skills help to better advocate for yourself when seeking out opportunity in the technical field. I'd also suggest connecting with professors whilst in your formal education and after. They are there to help you succeed and will happily assist in your search for gainful employment and opportunities if you let them know you're interested and dedicated. On the flipside, beyond formal education, there's a wealth of resources online for self-teaching the technical side of mapping, such as learning various software and coding.