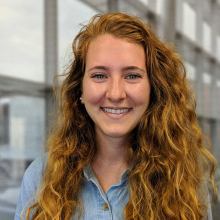 Colleen Walsh
Seafloor Mapping Intern
Graduate Student
University of North Carolina - Wilmington
Tell us about your work/research. What kinds of things do you do?
I specialize in map-making through a variety of software. Maps are vital to the public domain because it provides a visual medium through which the data can be explained. There is less of a language and education barrier than if you were to provide someone with a written report, which means my work can reach/affect more people. Additionally, sometimes the data needs to be collected before it can be transformed into a map. This is the extra fun part. Going out into the field, by foot or by boat, and working with various instruments to take measurements is an adventure and nicely breaks up the time spent at the desk.
What sparked your initial interest in your career?
I grew up on the south shore of Long Island surrounded my saltwater ecosystems with an electrician for a father. I was obsessed with maps and knowing where I was and where I could go out on the water. The south shore consists of hundreds of square miles of marsh systems that require a careful knowledge of their whereabouts and how they change with the tides. In Point Lookout, there is a single wind turbine that creates energy for the little beach town. I was and still am enamored by it and quite angry that there wasn't more. I wanted to find a way to combine maps with clean energy in the coastal environment. This started me on a path to learn to make maps of the seafloor to show where offshore wind farms could possibly be installed.
Who influenced you or encouraged you the most?
My dad has always been my biggest supporter, from sports to my education he continuously encourages me to learn as much as I can to then use that knowledge to be the best version of myself.
What element of your work/study do you think is the most fascinating?
The most fascinating thing about my work is that I get to simultaneously make the treasure map and hunt for the treasure. Although I normally go into work with an idea of what I'm looking for, there's always the chance of finding a surprise or something no one else had discovered previously.
What other jobs led you to your current career?
It has been a long and winding road to get to where I am today. I co-founded a teen chapter of the Long Island group SPLASH (Stop Polluting Littering And Save Harbors) to clean up my hometown waterways and expose young people to the realities of where their trash can end up. In undergrad, I assisted on multiple research grants including hedonic modeling of watershed views, the Pinellas County coastal management plan, and forestry valuation. Being a coral restoration specialist on the island of St. Barths, which was cut short due to Hurricane Irma's impact on the island, was my first job out of college. As a graduate student, I was a site surveyor for the National Estuarine Research Reserves, a geospatial analyst for Dewberry LLC, and a graduate research assistant for the US Army Corps of Engineers North Carolina inlet map update and cable routing constraints mapping for an offshore wind farm site. Additionally, my customer service and food service background refined my skills in proper communication with a given audience.
What are your degrees and certifications?
Bachelor of the Arts in Environmental Studies -- Eckerd College 2017; Masters of Science in Coastal and Ocean Policy -- University of North Carolina Wilmington 2020
What are your hobbies?
I love roller skating both in the skate parks and on trails. Cooking and reading have been lifelong passions of mine.
How did you get involved with the Ocean Exploration Trust?
I applied for the SEIP after searching for seafloor mapping jobs and coming across an Instagram post from @nautiluslive advertising the program.
What advice would you give someone who wants to have a career like yours?
If you want to get into the art of map-making, then make sure to learn the skills needed to collect the data, not just process it. It will benefit you to know how the information was collected when you run into a problem while making the map. Knowing field research techniques will also make you more marketable and a standout candidate when applying for jobs. Although you'll spend a fair amount of time in an office behind a desk, do not let your creativity get stifled. Mapmaking is just as much an art as it is a science!