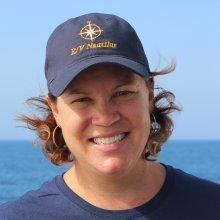 Claire Fackler
Science/Data Team
National Education Liaison and National Volunteer Coordinator
NOAA Office of National Marine Sanctuaries
Tell us about your work / research. What kinds of things do you do?
I support regional, national and international education and outreach programs that enhance public awareness, understanding, and appreciation of the ocean, particularly America's underwater treasures, known as national marine sanctuaries. My job is exciting and fun, with a wide diversity of activities ranging from assisting in research projects as a scuba diver, conducting interpretation, planning and implementing field experiences for students, providing hands-on training for teachers, and much more. Some days I sit at my desk and plug away at planning programs, conducting evaluations and ensuring ocean conservation information is available online. Other days I am out counting fish in marine protected areas, kayaking with students, engaging teachers in ocean literacy or helping with marine protected area capacity building in international locations.
What sparked your initial interest in your career?
I have always been fascinated with the ocean and marine life. This stemmed from being born and raised in the Hawaiian Islands, and as a little girl, investigating tide pools and strapping on a mask and snorkel to observe life in the sea. Throughout my childhood, I was absorbed by nature. It was quite easy, considering that I grew up without electricity for ten years on the slopes of Mauna Kea and wasn't distracted by television or video games. Through these childhood experiences, my passion for the ocean and the environment grew. I graduated with a Bachelor of Arts degree in psychology from the University of California, Santa Barbara, which is quite an unconventional degree for someone working for the National Oceanic and Atmospheric Administration (NOAA). Yet this passion I have always had for the ocean allowed me the opportunity to work for NOAA. Anything is possible as long as you have passion and diligence. This is an important message I often impart to the school children with whom I work.
Who influenced you or encouraged you the most?
My parents encouraged me the most and were unconditionally supportive of the choices I have made throughout my life. That along with great teachers and an immersive marine science class in high school that allowed me an opportunity to get scuba certified as a teenager, as well as work with endangered Hawaiian green sea turtles, were all formative experiences that influenced my future career decisions. 
What element of your work / study do you think is the most fascinating?
One of the more meaningful programs I have been involved with was the development of a program called Ocean for Life (http://sanctuaries.noaa.gov/education/ofl/), which brought together students from diverse cultures and backgrounds from North America and the Middle East to discover marine science, conservation, and how the ocean connects us all. This program has had life-changing impacts on the high school-aged students that have participated, including an increased interest in marine science studies, enhanced ocean conservation, and stewardship, as well as more broad cultural awareness and understanding. Ocean for Life is an international ocean science and cultural exchange program created to inspire a more peaceful world, dawning from the tragic events of September 11, 2001.
What other jobs led you to your current career?
I have been working for the National Oceanic and Atmospheric Administration's (NOAA), National Ocean Service since 1999. Previous to that, I did contract work for the National Geographic Society to assist in the education and outreach elements of the Sustainable Seas Expedition. 
What are your degrees and certifications?
Bachelor of Arts in Psychology with an emphasis on animal behavior training — University of California, Santa Barbara 1995; National Association for Interpretation Certified Interpretive Guide (CIG) and CIG Trainer; NOAA Diver (2001); NAUI Dive Rescue certification (1998); NAUI Masters certification (1999); and Reef Environmental Education Foundation Advanced Assessment Team for West Coast.
What are your hobbies?
I love being in, on or around the ocean anywhere in the world on any platform (i.e. exploration vessel, kayak, snorkeling, stand up paddle board). I also enjoy hiking, camping, soccer and raising my young daughter, Lena Kailani. 
What advice would you give to someone who wants to have a career like yours?
My advice is to pursue your passion no matter what, even if it means volunteering, doing an internship, or starting at the bottom of the totem pole in a career. Anything is possible as long as you have the passion and diligence to follow through! Your life will be so much more fulfilling if you truly love what you do.