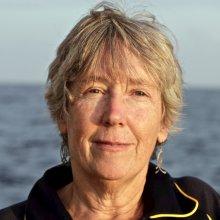 Cindy Van Dover
Scientist Ashore
Director, Marine Laboratory
Duke University
Cindy Van Dover is a deep-sea scientist with an expertise in the ecology of chemosynthetic ecosystems and deep-sea environmental management and conservation. Her current research includes a multidisciplinary study of population and evolutionary connectivity in species that occur at seeps in the Caribbean, Gulf of Mexico, and along the continental margin of the US east coast. This work includes collaborations with larval ecologists who study when and where larvae are in the water column, physical oceanographers who determine where deep ocean might carry the larvae, and geneticists who use DNA sequences to determine where larvae have dispersed.
Professor Van Dover completed her undergraduate degree in Environmental Science at Rutgers University, her Master's degree in ecology at the University of California, Los Angeles, and her PhD in Biological Oceanography from the Woods Hole Oceanographic Institution/MIT Joint Program in 1989. She received an honorary doctorate from the University of Bergen in 2012.
"For me, telepresence science with the Nautilus team is like being a kid in the candy shop - the TREETs* are everywhere.

*Transforming Remotely-conducted Research through Ethnography, Education & Rapidly Evolving Technologies"
Expeditions
Cindy participated in the following Ocean Exploration Trust expeditions: