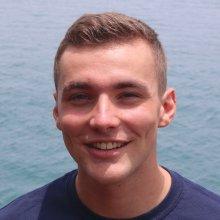 Christopher Jaques
Navigation Intern
Cadet/ Undergraduate Student
United States Coast Guard Academy
Tell us about your work/research. What kinds of things do you do?
In Marine and Environmental Sciences at the Academy, I study fisheries biology, biological and chemical oceanography, marine geochemistry, ocean dynamics, and other courses that focus on the biological and physical interactions and characteristics of our world's oceans. My studies often focus on how Coast Guard operations affect and are affected by marine ecology and ocean dynamics.
What sparked your initial interest in your career?
I grew up on Cape Cod surrounded by the water. From before I was one I was on boats, getting my first experiences of the ocean I would soon come to love. As I grew my affinity blossomed into a scientific interest. I always knew I wanted to work on the water, so I applied to multiple maritime schools and was fortunate to get an appointment to the Coast Guard Academy. For the past three years I have been majoring in Marine and Environmental Sciences, taking classes in Oceanography, Dynamics, Geochemistry and Fisheries Biology. My interest in the subject and love for the ocean evolved into a want to protect those that call it home, from the marine life to the sailors that venture to its farthest reaches.
Who influenced you or encouraged you the most?
My teachers throughout grade school helped develop my scientific interest and I took a personal interest in the subject of Marine Science. Once interested, my parents and best friend encouraged me to apply to the Coast Guard Academy where my instructors continue to fuel my knowledge and drive.
What element of your work/study do you think is the most fascinating?
The complex interactions found in the marine ecosystem is incredible. I wrote a paper on the effects of a growing Great White Shark population around Cape Cod and to learn about how many species and natural processes they can impact is awe inspiring. As a diver from the area, Great Whites are a species I like to learn about.
What other jobs led you to your current career?
My first job was working on a fishing boat. It was through that line of work I realized how fragile the marine ecosystem can be, but also how valuable it is to humans. Environmental Police and the Coast Guard were always coming on board to make sure we were within regulation. Having always loved the water and the life it supports, I started to realize that I could make a career out of protecting it through the Law Enforcement and Living Marine Resource missions of the Coast Guard.
What are your degrees and certifications?
NAUI & PADI Certified SCUBA Diver- 2009;
Nationally Registered Emergency Medical Technician- 2018
Bachelor of Science in Marine and Environmental Sciences-- United States Coast Guard Academy- In Progress
What are your hobbies?
As if I did not have enough ocean in my life, my favorite hobbies include SCUBA diving, boating, fishing, free diving, and spearfishing.
How did you get involved with the Nautilus Exploration Program?
The Nautilus Exploration Program partners with the USCGA to offer an annual internship which is open to applications from students with my major. It was by far the most interesting to me, so I asked around and was encouraged to apply by older cadets and instructors who have joined the Corps of Exploration on previous voyages. I applied and am grateful to be onboard!
What advice would you give someone who wants to have a career like yours?
Explore all your opportunities. I was not aware of all of the missions conducted by the Coast Guard until I learned about all of them at the Academy. Similarly, I did not know about Nautilus until I looked into the internships available to me. If you are interested in marine science, get involved, get into the community and find a school that works for you. If you are interested in the military as well, look into the Coast Guard, consider the Academy, and come for a visit!
Expeditions
Christopher participated in the following Ocean Exploration Trust expeditions: