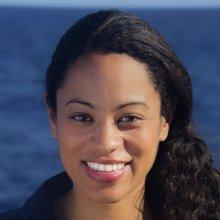 Christie Obiaya
Ambassador
Manager
Bechtel
At Bechtel, Christie has focused on developing and building global energy and infrastructure projects. She has always been interested in the interface of our built environment and our natural environment, and is particularly fascinated by marine life and the surprises held by subsea terrain.  
Christie graduated with a B.S. in chemical engineering from MIT in 2004 and, after working as an engineer at Procter & Gamble, returned to MIT's Sloan School of Management where she graduated with her MBA in 2010.
"I'm thrilled to join the Corps of Exploration aboard the Nautilus – not only to witness in person the team's findings in the Dry Tortugas, but also to see in action the cutting-edge exploration tools and real-time engagement of the global scientific community!"
Expeditions
Christie participated in the following Ocean Exploration Trust expeditions: