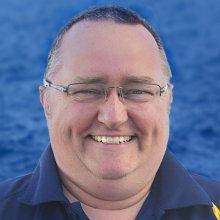 Chris German
Science/Data Team
Senior Scientist
Woods Hole Oceanographic Institution
Chris German is a Senior Scientist at the Woods Hole Oceanographic Institution. Chris studies marine geochemistry with a particular interest in the exploration for and investigation of sites of seafloor fluid flow ranging from hydrothermal vents in volcanic settings to cold seep systems at ocean margins. After a post-doctoral fellowship at MIT, Chris returned to his native UK for 15 years working for the UK Government before returning to WHOI in 2005 to take up the position of Chief Scientist for deep Submergence – a post he held until the deep diving Alvin submersible was returned to action in Spring 2014. His current interests range from the geologic controls of fluid flow at the seafloor to their impacts on ocean chemistry and, in his most recent work, their potential to guide exploration for life elsewhere in our solar system and beyond.
Chris German received a BA in Natural Sciences (Chemistry and Earth Sciences) from the University of Cambridge, UK in 1984 and a PhD in Marine Geochemistry, also from the University of Cambridge in 1988. In 2007, he was recognized with a further ScD degree from the same University in recognition of his "lifetime" scientific achievements.
"I grew up with my Grandfather telling me stories of his life at sea in the early part of the last Century. I never expected to get the chance to follow in his footsteps at the time, but once life handed me a first chance to explore the deep ocean I seized it with both hands and have never looked back."
Expeditions
Chris participated in the following Ocean Exploration Trust expeditions:
Selected Publications
2023
2021
(2021).
Protistan grazing impacts microbial communities and carbon cycling at deep-sea hydrothermal vents.
Proceedings of the National Academy of Sciences
118 (29): e2102674118.