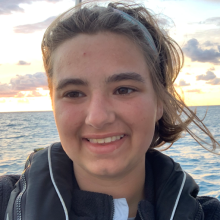 Cheyenne Waters
Navigation Intern
Undergraduate/Cadet
United States Coast Guard Academy
Tell us about your work/research. What kinds of things do you do?
I am a cadet at the Coast Guard Academy. As a cadet, I am going to college to get my bachelor's degree. However, I am also training to be a military officer. At the end of the four years, I will have to serve at least 5 years as an officer in the Coast Guard. I am studying Marine and Environmental Sciences with a focus on physical oceanography and biology. In addition, I have had opportunities to participate in undergraduate research. I have analyzed plastic in the stomachs of a bird called short-tailed shearwater. There has been a lot of studies done on short-tailed shearwaters, so part of my research was comparing the samples that I looked at to previous studies. I have also done research on microplastics in estuaries. The study I participated in was a surface trawl and analysis of microplastics in the Thames River estuary.
What sparked your initial interest in your career?
I have wanted to study marine science since I was 7. I have also loved the ocean. I also want to help people and do something that makes a difference. The Coast Guard Academy allows me to do both while providing opportunities to be underway and visit cool places.
Who influenced you or encouraged you the most?
My dad was my biggest inspiration to pursue a career in the Coast Guard. He served in the Air Force, and we moved a lot when I was a child. This encouraged me to also serve in the military. Also, it helped me discover that I love to explore different places.
What element of your work/study do you think is the most fascinating?
I love being in the ocean. The Coast Guard will allow me to spend a lot of time underway. I already had some amazing opportunities to explore the ocean. I am on the sailing team and have participated in some amazing competitions while increasing my seamanship skills.
What other jobs led you to your current career?
The Coast Guard Academy is my first job. The Academy does actually count as a job. Cadets are active-duty military and get paid a small stipend. Most cadets come to the Academy straight out of high school. However, there is still a large number of cadets that go to college for a few years first or serve for a few years enlisted in the Coast Guard. (You do, however, have to be 17-22 years old to apply.
What are your degrees and certifications?
Red Cross Lifeguard Certification 
Unfinished Bachelor's in Marine and Environmental Science 2024
What are your hobbies?
I am on the offshore sailing team at the Academy. I have done several multi-day races including Newport to Bermuda (the race took 3 and a half days). I also love scuba diving and any other water sport.
What advice would you give someone who wants to have a career like yours?
The officer corps of the Coast Guard are the leaders of the Coast Guard. To be an officer in the Coast Guard, you have to go to the Academy or Officer Candidate School (OCS). For OCS, you have to already have a bachelor's degree. Other branches of the military have an ROTC program where you can go to a regular college and attend training to be an officer. Another option is to join the enlisted force. This is the traditional bootcamp to service route. If you want to go to the Coast Guard Academy, I encourage you to visit and reach out to our admission officers for information. It really is an amazing opportunity and a great career path.
How did you get involved with the Ocean Exploration Trust?
The Coast Guard Academy and the Ocean Exploration Trust work together to offer this internship. This is part of my summer training. I applied through my school and Ocean Exploration Trust and got the internship.
Expeditions
Cheyenne participated in the following Ocean Exploration Trust expeditions: