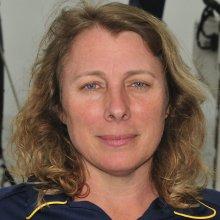 Charlene Tuttle
Science Communication Fellow
Teacher
Lawn Avenue School
A lifelong learner, Charlene is an explorer of both inner and outer landscapes. She has traveled extensively and is always eager to expand her understanding of the world and its inhabitants. Inquisitive by nature, she has a passion for sharing this with her students. Currently, she teaches science and social studies to a wonderful group of sixth graders. From her Nautilus experience, she hopes to integrate more cutting edge science into her inquiry-based, expanding STEAM curriculum.
Throughout her career, Charlene has participated in various initiatives and has served on multiple committees. Currently, she serves on the State Leadership Team, to help augment a smooth transition to the Next Generation Science Standards.
Her teaching experience includes working with students from K-adult, teaching a variety of subjects including English, French, Literacy, Robotics and Outdoor Education in both Rhode Island and California. She has trained 100's of teachers in science inquiry and has a deep passion for inquiry-driven curriculum.
Awards received for her innovative approach to teaching science include the Presidential Award for Excellence in Math and Science Teaching, and the Amgen Award for Science Teaching Excellence.