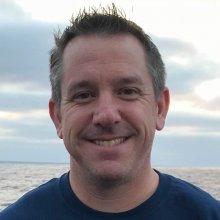 Chad King
Science/Data Team
Research Specialist
Monterey Bay National Marine Sanctuary
Tell us about your work/research. What kinds of things do you do?
I dabble in many projects of the research team at Monterey Bay National Marine Sanctuary (MBNMS). Traditionally, I have been trained in kelp forest ecology and have applied that experience here with years of SCUBA surveys up and down the central coast of California. More recently, I have led research expeditions to Davidson Seamount, collecting information about the proximal biology and oceanography, including marine mammals and seabirds above to the corals, sponges and other life that actually lives on the seamount. This research will answer the question of if and how much does Davidson Seamount influence the biology on and around it, perhaps being an "oasis of life" while adjacent to areas that are relatively less rich and productive. I am also responsible for the collection, analyses, and dissemination of spatial data for MBNMS. Over the years I have helped develop our sanctuary monitoring website (sanctuarymonitoring.org), received extensive dive training within NOAA, developed skills as an underwater photographer/videographer, produced short films, developed an online photo database to share our photographs and developed an iOS and Android app to further share these resources.
What sparked your initial interest in your career?
Since I was a child I was always intrigued with ocean life and processes. How do waves work? Why do whales and birds travel thousands of miles every year from one side of the planet to the other? What is under all that kelp canopy? Unfortunately, I was also fearful of what were the unknown depths to me. I didn't even want to go into the ocean past my waist as a child! The pull endured and my fascination with all things salty grew into an education and career that I have today. Gone is the fear, replaced with knowledge and awe for the oceans that drive our global weather, breathable air, and even our food. Yet, there is so much to explore, as only 1% of the ocean's livable space has been explored.
Who influenced you or encouraged you the most?
My elementary and middle school teachers saw my passion for science, I think, and encouraged me to pursue a degree in the discipline that I loved. College courses only solidified the feeling that this was the career for me. Several college professors were wonderful mentors and helped me find my way. Of course, my parents were extremely supportive from my first inklings of an interest in science and encouraged me whenever I was thrown a curveball.
What element of your work/study do you think is the most fascinating?
The most fascinating thing about my work really is exploration. Although I have more than 1,000 SCUBA dives in my life, every dive is unique and different, often presenting interesting and new experiences every time. Over the past decade, I have become much more involved in deep-sea research, such as this expedition, and I am routinely looking live at an area of the seafloor that no human has ever seen before. When I reflect on that fact, it really hits home about the work and exploration we are conducting to better understand our oceans.
What other jobs led you to your current career?
I've been with Monterey Bay National Marine Sanctuary for 16 years, but prior to that, I was a marine biologist with California Department of Fish and Game (now CA Fish and Wildlife), where I conducted fish surveys on SCUBA and performed statistical analyses, and helped start the GIS lab there. Prior to that, I had an internship in the Aleutian chain (Shemya) where I conducted urchin surveys on SCUBA and scanned for microchipped sea otters nearshore. These skills and experiences led to being qualified for my current position with MBNMS.
What are your degrees and certifications?
Bachelor of Science in Marine Biology – University of California Santa Cruz 1995; Masters of Science in Marine Science – Moss Landing Marine Laboratories 2003; NOAA Divemaster and Dive Trainer
What are your hobbies?
I love to travel, watch and play baseball, CrossFit, game, and podcast, but my favorite activities are really just spending time with my wife and two children.
What advice would you give someone who wants to have a career like yours?
Admittedly, there are more people interested in a marine biology career than there are jobs. That said, I truly believe it takes dedication, passion, and commitment to succeed at anything in life, no matter what it may be. Only your drive will ensure success. Excel in math and science in high school and college. Apply for internships. Go to conferences and workshops and network with other students, researchers, and professors. Stay in touch with the latest discoveries and research in your fields of interest. Expand your sphere of understanding and people, as well as your ancillary skills, creativity, and confidence, and you may be the next one giving advice to the next generation of marine biologists.
How did you get involved with the Nautilus Exploration Program?
Ocean Exploration Trust and the Office of National Marine Sanctuaries have been working together for several years to explore west coast National Marine Sanctuaries. Monterey Bay National Marine Sanctuary was selected as a site in 2018and 2019, and I was asked to lead this particular expedition.
Expeditions
Chad participated in the following Ocean Exploration Trust expeditions: