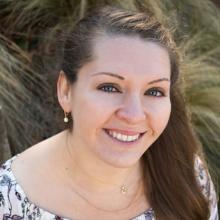 Cesalea Osborne
Seafloor Mapping Intern
GIS Analyst
City of Lawrence
Tell us about your work/research. What kinds of things do you do?
I am a geographic information systems (GIS) analyst for the City of Lawrence, Kansas, where I collect GPS data of the city's utility assets and analyze, manage, and disseminate these data in ArcGIS Desktop 10.7, ArcGIS Pro 2.4, and ArcGIS Online for our field operators and the public. I am also a member of the Kansas Association of Mappers education committee, where I help organize GIS training courses for users in the state. My current endeavors involve preparing for the Kansas GIS Designation exam and organizing a study group for regional users to prepare for the GIS Professional exam. Ultimately, I aim to obtain a GISP certification.
What sparked your initial interest in your career?
As a child, my mother took me to several tourist caves in Missouri during our summer vacations. As a result of exposure to these strange and beautiful subsurface environments, my education has revolved around geoscience, particularly environmental science, GIS, and karst hydrogeology. While studying abroad as a graduate student, I discovered the Nautilus Exploration Program in the Ocean Exploration Centre at Titanic Belfast. My fascination with the history of the Titanic initially piqued my interest in ocean exploration; I was awe-struck to find out that Dr. Robert Ballard's research continues through the Ocean Exploration Trust. The following day, I stepped on a beach for the first time and became overwhelmed with curiosity by the vastness of the Atlantic Ocean. I decided then that my next trajectory in life would somehow involve ocean exploration and survey. My ultimate goal is to begin a career in hydrography, where I can provide precision underwater topographical maps, expand on the >15% of mapped seafloor, and promote the safe navigation and conservation of our oceans.
Who influenced you or encouraged you the most?
My family invested a lot of time into my development, and their support has been unconditional during my educational career. Haskell Indian Nations University professors Dave McDermott and Steve Egbert encouraged me to take GIS and remote sensing courses during my undergraduate career; their passion for geography and the way they conveyed that passion in the classroom encouraged my engagement in GIS. Little did I know that I would eventually find my niche. I also had a very knowledgeable, patient, and supportive graduate thesis advisor, Dr. David Keeling, who pushed me beyond what I perceived as my limits and provided a positive, thorough graduate school experience that has opened the door to a world of opportunity.
What element of your work/study do you think is the most fascinating?
Learning new analysis techniques in GIS and applying those to data I have collected fascinates me the most. Trial and error are typical in GIS analysis, but the eventual breakthrough, the feeling of "cracking the system" and seeing the result, is inspiring. I also enjoy making useful maps. Seeing someone view the map they requested of me is like making a layer cake (pun intended) for someone and watching them take their first bite. How is it? Does it serve its purpose? Can you and your team benefit from it?
What other jobs led you to your current career?
College courses, internship opportunities, and professional memberships formed the foundation of my career in GIS, and my previous position as a GIS technician at Western Kentucky University solidified it. Currently, I am a GIS Analyst for the City of Lawrence, Kansas, where I am honing in on my skillset and pursuing professional GIS certifications.
What are your degrees and certifications?
Associate of Science in Natural Science - Haskell Indian Nations University (2012)
Bachelor of Science in Environmental Science - Haskell Indian Nations University (2016)
Master of Science in Geoscience - Western Kentucky University (2018)
Graduate Certificate in Geographic Information Science - Western Kentucky University (2018)
What are your hobbies?
I love dancing (of any style), aerial acrobatics, and caving! I am also an avid concert-goer.
How did you get involved with the Ocean Exploration Trust?
After I discovered the Nautilus Exploration Program at Titanic Belfast, I began researching the Ocean Exploration Trust's Science and Engineering Internship Program and discovered that GIS plays a significant role in seafloor mapping. I applied for the seafloor mapping internship with the support of my study abroad professor, Amy Nemon, whose program introduced me to the Ocean Exploration Trust, and my thesis advisor, Dr. David Keeling. Through this opportunity, I hope to begin a career in hydrography.
What advice would you give someone who wants to have a career like yours?
It sounds cliche, but keep pushing to pursue your ultimate goal. Though it takes time, hard work and dedication pay off. It has for me in ways that I never imagined.