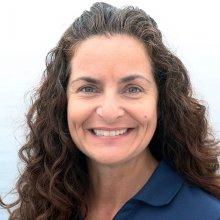 Catalina Martinez
Science/Data
Regional Program Manager
NOAA Office of Ocean Exploration and Research
Catalina's path to the field of ocean sciences was not a direct one, as she spent many years working with urban school children and victims of domestic violence prior to studying oceanography. Catalina began her ocean science career with the National Oceanic and Atmospheric Administration's Office of Ocean Exploration and Research (NOAA OER) in 2002 as a John A. Knauss Sea Grant Fellow after graduating from the University of Rhode Island (URI) with two consecutive master's degrees - one in Oceanography and one in Marine Affairs.  For the first few years, she worked out of NOAA's home office in Silver Spring, MD assisting with at sea operations, logistics, and outreach efforts for grant funded missions to explore little known and unknown ocean regions.
In 2004, Catalina moved back to RI as Regional Program Manager for NOAA OER to help implement a very exciting collaboration with the URI Graduate School of Oceanography and the Ocean Exploration Trust focused on the application of telepresence technology for a unique ship-based program that's been established for ocean science, exploration, education and outreach. Catalina has sailed extensively on various research vessels as Expedition Coordinator for NOAA OER over the 14 years she's been with the program, and currently spends most of her time managing the joint efforts associated with the collaboration at URI, and as regional liaison for the program.
Catalina also demonstrates her passion and commitment to serving underserved communities by continuously developing new and exciting opportunities for underrepresented and underserved students. Most recently Catalina completed a one-year Master's in Business Administration (MBA) at URI supported by the NOAA Oceanic and Atmospheric Research Graduate Studies Program.