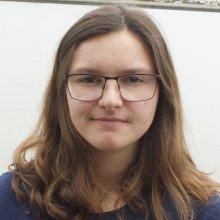 Cassidy Gonzalez Morabito
ROV Engineering Intern
Undergraduate
Rutgers University
Tell us about your work/research. What kinds of things do you do?
I work predominantly with underwater robots, specifically Slocum Gliders, and this work comes in many forms. Examples of work I have done with Slocum Gliders are research-based analysis of the vehicles at my university, Rutgers, shipboard deployments in lakes, and oceans in a multitude of locations, such as off the coast of South Africa and the Gulf of Mexico, and working under the design and manufacturing company, Teledyne Webb Research, for these vehicles as a Mechanical Engineering Intern doing vehicle model improvements, creating part designs, and working on special engineering projects. I believe these, and all underwater robots, are crucial to helping better understand our greatly under sampled oceans. This is why I started, and continue to work with these great pieces of marine technology. I plan to graduate from Rutgers University with a B.S. in Mechanical Engineering in May of 2019. After this, I will continue to work within the underwater robotics field as an engineer for an organization under the U.S. Navy, called NAVSEA Carderock Division. 
What sparked your initial interest in your career?
Originally, I studied Physical Oceanography in the Marine Science department at Rutgers University. I did this for 2 years because I was, and continue to be, interested in the physical makeup of the ocean and how this complex system could be explained using numerical modeling and physics. In addition to this curiosity, I was, and still am, a sailor, so being close to and on the water was something I was looking for in a major and career. While studying in the Rutgers Marine Science department, I began to work closely with the underwater robots they operated, Slocum Gliders. I worked on research projects related to them, assisted with prepping them for deployments, and lent a helping hand on missions off the New Jersey coast and off the coast of South Africa. While working closely with this marine technology, I realized my passion for the advancement of these systems, and my desire to learn more, so I changed majors to Mechanical Engineering, and I have been working with marine technology since. 
Who influenced you or encouraged you the most?
My family, sisters, and friends encourage me the most. They inspire me on a daily basis to work my hardest, seek out new opportunities for growth, and continuously push me to strive for greatness. I especially am encouraged by my sisters because I want to continuously be a role model which they can look up to and come to for advice. 
What element of your work/study do you think is the most fascinating?
The most awe-inspiring part of my work is the fact that there is always something new to learn. In addition to this, I am fascinated by the fact that these underwater robots are providing us with the capability to do things not possible just a few years ago. We are able to learn and study organism and systems within the deep ocean for months without the need to put human lives at stake and without the need to be out on ships in dangerous environments. 
What other jobs led you to your current career?
Other jobs which have lead me to my current career include being a Sailing Instructor, an IT and ResNet Technician, a Marine Technician, a Research Intern, and a Mechanical Engineering Intern. As a Sailing Instructor, I solidified my love for water and physics. As an IT and ResNet Technician, I solidified my passion for technology in general. As a Research Intern, I solidified my continuous drive for learning and discovering new things. As a Marine Technician and Mechanical Engineering Intern, I solidified my focus to work in the Underwater Robotics and Engineering side of the Marine Science world. 
What are your degrees and certifications?
I will be achieving a Bachelor of Science in Mechanical Engineering in May of 2019 from Rutgers University - School of Engineering
What are your hobbies?
I love climbing, hiking, and camping! On the flip side of things, I love being in nature when camping and hiking and I love pushing myself when climbing. I climb at least twice a week currently but I wish I had time to go more!
What advice would you give someone who wants to have a career like yours?
Enthusiasm is key. People like working with someone who is open-minded and willing to put in work and effort. Never stop learning and always seek out new opportunities for growth. 
Expeditions
Cassidy participated in the following Ocean Exploration Trust expeditions: