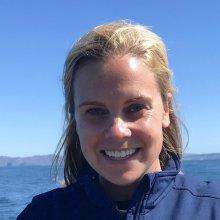 Carrie Roble
Science Communication Fellowship
Director of Science & Stewardship
Hudson River Park's Estuary Lab
Tell us about your work/research. What kinds of things do you do?
I am the Director of Science & Stewardship at Hudson River Park's Estuary Lab located in the heart of New York City on Manhattan's Westside. Yes, the Hudson River and NYC's waters are home to great biodiversity AND in need of protection and restoration. My work is focused on monitoring the health of the Hudson River, leading habitat enhancement projects, and engaging community in this work. You can often find me on boats collecting microplastics, in pile fields (remnants of old shipping piers) restoring oysters, and on floating docks measuring water quality - usually with tomorrow's STEM leaders and always with a life-vest on! 
What sparked your initial interest in your career?
The intersection of aquatic science, urban watersheds, and community speaks to my roots growing up in metro Detroit. Water has always been key to my identity as a #GreatLakesGal and #WaterWoman. From a young age, it was curious to me why two major water bodies in my backyard, the Rouge River and the Detroit River, were polluted and often closed to swimming. What happened to these waterbodies and what needed to change to restore them to celebrated playgrounds and healthy ecosystems for my hometown? Those questions propelled me to study aquatic science and environmental justice and eventually work in NYC integrating community in estuarine science and creating solutions for cleaner and, one day, swimmable waters. 
Who influenced you or encouraged you the most?
Chuck Huntington, an advisor, and mentor at Bowdoin College. I met him when he was well into his 80s and on Kent Island, a Research Station in the Bay of Fundy. He had been conducting research on storm petrels for over 60 years. His LOVE for this species of bird and for field science was contagious. He showed me the power of loving your work, storytelling, and sharing science in dynamic ways with others, especially students. 
What element of your work/study do you think is the most fascinating?
Sewers and their impact on our urban waterways. Poop is gross and we need to do more to decrease sewer pollutants from entering our waters ways. Plastics, which also often enter our waterways through sewer outfalls, are having a detrimental impact on our marine environments. I am forever fascinated in studying the impacts of our sewer pollution and implementing enhancement projects that mitigate sewage from harming water quality, habitat and wildlife. 
What other jobs led you to your current career?
Water has always guided my career decisions. I have studied barnacle settlement behavior in the Bay of Fundy. Worked as an Ocean Lifeguard in Los Angeles, California. Researched tiger shark populations dynamics and seagrass regeneration in Shark Bay, Western Australia. AND taught environmental education in a number of urban watersheds. I was fortunate to know that working on water and for water would forever keep me inspired.  
What are your degrees and certifications?
B.A. in Environmental Studies, Africana Studies, & Biology from Bowdoin College, Maine 2008; M.S. in Aquatic Science & Environmental Justice from University of Michigan 2012; Boat Captain's License (OUVP six-pack); Environmental Leadership Program Eastern Region Network Senior Fellow; National Network for Ocean and Climate Change Interpretation Fellow 
What are your hobbies?
Being outside, playing at the beach and in our waters, picking up plastic pollution, and listening to podcasts and swoon-worthy music. 
How did you get involved with the Nautilus Exploration Program?
I love researching opportunities to expand my skills and take me to new waters. I found the Nautilus Exploration Program during a Google search and knew I had to get on the R/V Nautilus and share its jaw-dropping ocean exploration footage with my Hudson River Park community.   
What advice would you give someone who wants to have a career like yours?
You are worthy! Tell people your goals and share your story. Ask for mentorship and be a role model for others. Know that the hard work of STEM helps teach you the power of learning from mistakes and failures. This will enrich your understanding of yourself and only make you a more empathetic leader. Create a community of inspiring people that uplift and support each other. AND reflect on your progress and reconnect with the source of your passion regularly.  
Expeditions
Carrie participated in the following Ocean Exploration Trust expeditions: