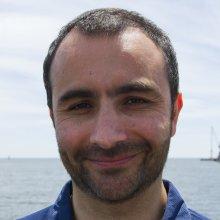 Carlos E Gomez
Science/Data
Graduate Student
Temple University
Carlos Gomez is a graduate student in the Department of Biology at Temple University. He is interested in how anthropogenic impacts such as ongoing climate change are affecting deep-sea coral reef communities. His work focuses on the physiological as well as ecological responses of deep sea octocorals to ocean acidification conditions. Carlos has previous experience in tropical shallow water coral reefs where he has work with octocorals as well as the community associated while doing his Bachelor and Master's degree in Colombia.
Carlos Gomez has a degree in Marine Biology from Universidad Jorge Tadeo Lozano in Colombia, and a Master's degree in Biological Sciences from Universidad de los Andes also in Colombia. Currently he is a Fulbright-Colciencias Fellow completing his PhD at Temple University. 
"Being a marine biologist, it is always excited to be involved in research that is at the forefront of marine science, specially to go out and have the opportunity to explore a relatively new and not well understood ecosystems such as the ones found in the sea floor. For sure it will be an amazing experience to be part of the E/V Nautilus 2015"
Expeditions
Carlos E. participated in the following Ocean Exploration Trust expeditions: