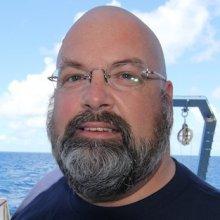 Burnham Hall
Educator at Sea
Assistant Director
Mystic Aquarium
Burnham Hall's Nautilus involvement began during the early stages of designing the public face of the E/V Nautilus' first expedition in which telepresence, public programming, and the nautiluslive.org website were first rolled out to the world. As Assistant Director of Guest Services at Mystic Aquarium, he is the primary supervisor/trainer for the hand-picked presentation team for Nautilus LIVE Theater, as well as writing and developing the various pre-, live, and post-expedition scripts.
Burnham has a substantial background as a public speaker and facilitator as an Ordained Bishop for over 25 years. His hope is to continue to be a part of communicating the wonder, possibilities, and need for both the Nautilus and the newer Exploration Now strategies to further ocean exploration.
Burnham Hall graduated as valedictorian from Faith School of Theology in Maine in 1987. He also previously attended Saint Thomas University in his native New Brunswick, Canada.
Expeditions
Burnham participated in the following Ocean Exploration Trust expeditions: