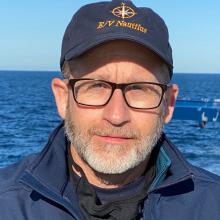 Bruce Cousineau
Video Engineer
Technician
Freelance Contractor
Tell us about your work/research. What kinds of things do you do?
With over thirty plus years in the AV industry, I have worked in concert staging, live video production, corporate events as well as installations. My most recent accomplishment was building a working studio console at the OET office that will allow for interaction between Dr. Ballard and the control van on Nautilus.
What sparked your initial interest in your career?
As a college student, I worked in the AV department. It was my first time working closely with technology and I really enjoyed my job. This gave me the opportunity to start my career in the industry.
 
Who influenced you or encouraged you the most?
I met my wife while in college and if it wasn't for her support, I wouldn't have ventured into the industry during college.
 
What element of your work/study do you think is the most fascinating?
What I consider the most fascinating element of my work is the ever changing technology. When I began in this field, technology was driven by the needs of the professional industry and now it is the consumer driving it.
What other jobs led you to your current career?
After leaving college, I managed an AV rental and staging company that encompassed every aspect of the industry: audio, video, lighting etc. In the years following that, I worked at Mystic Aquarium and met Dr. Ballard. I was a part of the team that handled the technological aspects of both his exhibits as well as the aquarium's exhibits.
 
What are your degrees and certifications?
I was an Industrial Arts candidate until I went full time into the AV industry. Certifications from CM Loadstar and ICIA.
What are your hobbies?
When time permits, I like to go hiking with my wife and 2 dogs as well as kayaking around Rhode Island. I am an avid BBQ smoker and enjoy feeding friends and family.
What advice would you give someone who wants to have a career like yours?
Follow your dream, stay connected, and keep up with technology as it changes.
How did you get involved with the Ocean Exploration Trust?
I was lucky enough to have worked with Dr. Ballard while I was at Mystic Aquarium and the Institute for Exploration. For many years, I was involved with the technology surrounding the Titanic exhibit, as well as the earlier expeditions that were cast to the Nautilus Theatre, located at Mystic.
I became part of the expedition team while I was building the studio in OET's offices. At that time I was asked if I would be interested in being a part of the expedition and of course, the answer was a resounding yes.
 
Expeditions
Bruce participated in the following Ocean Exploration Trust expeditions: