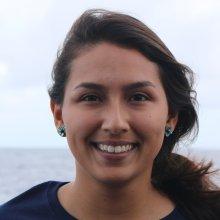 Brianna Alanis
Science/Data Team
Graduate Student, Graduate Research Assistant
University of Texas Rio Grande Valley
Tell us about your work/research. What kinds of things do you do?
My work focuses on creating autonomous proxies for primary production measurements using dissolved oxygen. I use in situ sensors as well as sensors in the lab to measure dissolved oxygen levels. I also started incorporating oxygen sensors on our autonomous underwater vehicle (AUV), Clio, during research cruises.
What sparked your initial interest in your career?
I started working for a professor at my university during the last year of my undergraduate career. This job opened my eyes to research and exploration. My boss then offered me a masters position in the Ocean, Coastal, and Earth Sciences and from then on I was hooked.
Who influenced you or encouraged you the most?
My current graduate advisor encouraged me to get into science when he first gave me a research job as an undergrad.
What element of your work/study do you think is the most fascinating?
I think the most fascinating part of my job is going on research cruises. You get to go to new places and experience new cultures. You also get to explore the ocean and conduct research that can impact the world in a positive manner.
What other jobs led you to your current career?
I was an aquarium intern at the Gladys Porter Zoo, where I worked closely with stingrays and sea turtles. I had always loved the ocean but working with those marine animals reignited my passion for ocean studies.
What are your degrees and certifications?
Bachelor of Science in Biology-- University of Texas Rio Grande Valley; Masters in Ocean, Coastal and Earth Sciences-- University of Texas Rio Grande Valley (current)
What are your hobbies?
I love playing beach volleyball with the other graduate students every Saturday. I also enjoy horseback riding with my dad at our ranch and playing with my new puppy, Molly.
What advice would you give someone who wants to have a career like yours?
If you want to get into marine chemistry, you must focus in school. Especially in your science courses. If you grasp the chemical concepts early on then you will not have a hard time with the more complicated topics.
How did you get involved with the Nautilus Exploration Program?
I am a NOAA CCME Graduate Fellow. We get emails about internships and various other opportunities and when I saw the Nautilus Exploration Program, I knew it was an amazing opportunity.