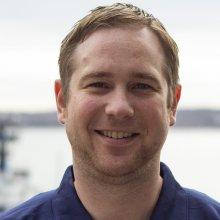 Brian Soash
Lead Science Communication Fellow
Educator Community Leader
Science Friday
Tell us about your work/research. What kinds of things do you do?
I work as Science Friday's Educator Community Leader. This means I get to work with amazing educators and partners all over the country to create educational resources that are accessible and relevant to current research. I also help coordinate Science Friday's Educator Collaborative Program where teachers from all over apply to create resources based off of Science Friday media that show off their innovative teaching styles. I travel to schools and conferences to lead professional development and share all the great resources Science Friday has to offer. I'm grateful to be able to work for an organization that helps bridge the gap between the amazing things happening in STEM fields and making the protocol, research, and data free and accessible to teachers and students anywhere.
What sparked your initial interest in your career?
I started my career as a teacher and that was born out of a passion for seeing students grow and get excited about things that I'm passionate about. I sincerely enjoy helping students find a passion they didn't know they had before or growing the one they already had. I think kids can do anything and I enjoy being able to help them achieve those goals they may have never thought were realistic for them. I didn't always enjoy school when I was younger and I've made it my passion and goal to be able to make learning relevant, connected to current research, inquiry-based, and active. Being a teacher and now as Science Friday's Educator Community Leader allows me to do that with teachers and students all over.
Who influenced you or encouraged you the most?
I've been inspired by my former colleagues and administrators who were willing to go above and beyond time and time again to make life-changing moments happen for students.
What element of your work/study do you think is the most fascinating?
I think being on the forefront of creating resources that take data from the field and putting it into an accessible form for educators is so fascinating. In my role, I get to do this myself, help other teachers do it, and see the ways other educators do it. It gives me the opportunity to continually grow as an educator. 
What other jobs led you to your current career?
I've been fortunate enough to work in schools all over the country. I've worked as a 5th, 6th, 7th, and 8th-grade math and science teacher in Ohio, North Carolina, and Georgia. I've also served as a middle school and high school track and cross country coach as well as a STEM Program Coordinator. Being able to work in so many setting and in so many capacities has given me a lot of insight into the many different ways to educate students and make them make personal connections to what they're learning.
What are your degrees and certifications?
I have a Bachelor of Science in Integrated Science Education and a Masters in Educational Leadership.
What are your hobbies?
I enjoy spending time with my family, running, biking, collecting video games, and piloting my own drone and ROV.
How did you get involved with the Nautilus Exploration Program?
In 2015 while working as a math and science teacher in Ohio I applied and was accepted as a Science Communication Fellow. Now I'm lucky enough to have been accepted to return as a lead fellow.
What advice would you give someone who wants to have a career like yours?
I would say if you want to be an educator, make sure you imagine that you or your son or daughter is in your own classroom. Your students deserve the best and so do you. Listen to your student's passions and interests than work relentlessly to involve the community and relevant topics to explore those ideas with your students. Go to conferences and work with your colleagues to create a culture of reflective pedagogy for yourself and those around you. Then don't be afraid to continue to work hard and overcome whatever barrier to make amazing opportunities happen whether it means staying up late, writing a grant, or going door to door for businesses to help fund a project. Be the teacher you wish you had.
"I'm incredibly excited to be a member of the Science Communication Fellowship, and go on expedition with the crew of the Nautilus. There are so many amazing things in science happening every day and I'm very proud to be a part of being able to take current data and research and share it with the world."
Expeditions
Brian participated in the following Ocean Exploration Trust expeditions: