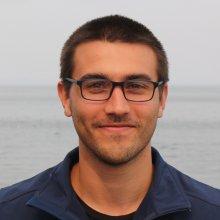 Brendan Chase Scott
Science/Data Team
GIS Technician
Coquille Indian Tribe
Tell us about your work / research. What kinds of things do you do?
While my undergraduate was in general biology I am currently working with GIS software to provide our government with useful and accurate information to make informed decisions regarding tribal resources.
What sparked your initial interest in your career?
I was unaware that I was even interested in GIS and mapping until I got a job doing. Mapping data can be used for research, practical applications, and informing the public. The information contained on these maps can be displayed in limitless ways for all levels of understanding and for that reason I believe it is an extremely powerful tool.
Who influenced you or encouraged you the most?
My sophomore Biology teacher in highschool was an extremely tough teacher and more than anything I just wanted to do well in her class. I did that and along the way developed an interest and appreciation for the complexity of living organisms.
What element of your work / study do you think is the most fascinating?
All of the technology involved in mapping is extremely interesting. Currently, we only have access to GPS units but are looking into possibly procuring a drone.
What other jobs led you to your current career?
I interned for my tribe's natural resources department and spent a lot of time mapping harvest unit boundaries on our forest. I worked a variety of customer service jobs that also motivated me to continue my education in hopes of doing something more meaningful.
What are your degrees and certifications?
Bachelor of Science in Biology - Oregon State University 2017
What are your hobbies?
I like to ride my bike, play soccer, read, and recently I began raising moths.
What advice would you give to someone who wants to have a career like yours?
Take GIS, geography, and computer science classes. Even if you don't end up getting a job in GIS or biology, those subjects translate well to many fields these days and will not be a waste of your time if you don't end up doing what you planned.