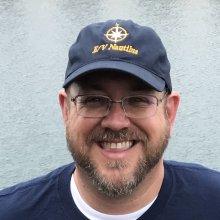 Bob Fulbright
Nautilus Ambassador
District STEM Facilitator
Alief Independent School District
Tell us about your work/research. What kinds of things do you do?
As the District STEM Facilitator at Alief ISD, I have a strong working knowledge of research-based STEM instructional practices, especially those that work best with highly diverse populations. My role is to actively participate in STEM core content planning, STEM electives, and the Arts. I partner with area superintendents, principals, district coordinators, interventionists, campus STEM coordinators, and campus staff to identify program needs, align, develop and implement pacing guides, lessons, problem and project-based learning, assessments, and design interventions for students who struggle in STEM coursework and for those who advance early. To develop a STEM network for the students and staff of Alief ISD, I am actively collaborating with the Texas Education Agency, Educate Texas, higher education institutions, industries, other T-STEM Academies, and nonprofits involved with STEM in order to assist campuses and the district with planning and executing STEM conferences, showcases, STEM nights, orientation, and write curricula for all content. I am assisting in STEM education research and grant writing for the National Science Foundation (NSF), supervising and coordinating campus and district STEM showcases, conferences, field trips, professional development, marketing, and branding, after-school STEM programs, summer STEM camps, and competitions with district STEM partners.
As the STEM facilitator, I serve on the district and campuses' STEM Advisory Board and committees and attend training on innovative STEM practices and methodologies such as 3-D printing, drones, project, and problem-based learning, action-based learning, critical reading, robotics, etc. I am responsible for developing and hosting professional development sessions for STEM staff and presenting at conferences (local, state, and national) and to the local school board, councils, and campuses.
What sparked your initial interest in your career?
I am a third generation teacher so I have a legacy to maintain.
Who influenced you or encouraged you the most?
My wife, Denise Fulbright, has always encouraged me to assume a leadership role in education.
What element of your work/study do you think is the most fascinating?
Problem-based Learning. PBL makes school more engaging for students, improves learning, and builds success skills for college, career, and life.
What other jobs led you to your current career?
Campus STEM Coordinator / Science Instructional Specialist, Science Teacher, and Football Coach
What are your degrees and certifications?
Bachelor of Arts in Education -- Lake Forest College 1997; Masters of Science in Education Leadership -- University of Houston Clear Lake 2013
What are your hobbies?
I like to cook and take my 3-yr old daughter places.
How did you get involved with the Nautilus Exploration Program?
Corps of Exploration member Megan Cook spoke at our STEM conference 3 years ago and has supported our district ever since. CITGO and OET have been partners since 2014 bringing unique STEM opportunities to educators in Houston.
What advice would you give someone who wants to have a career like yours?
"It is the supreme art of the teacher to awaken joy in creative expression and knowledge." - Albert Einstein