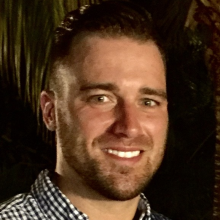 Bill Holeman
Science Communication Fellow
High School Science Teacher
Lemont High School
Tell us about your work/research. What kinds of things do you do?
I am a science teacher at Lemont High School, which is located 20 miles southwest of Chicago. This is my 10th year in the teaching profession and I have taught a wide array of science courses, but mainly I teach chemistry. I try to allow my students to be immersed in the content with as many hands-on labs and activities that I can fit into the curriculum. I feel science education to a key-component to every individual, science discovery plays a central role in the scientific community. Allowing students to question everything is the main component of my teaching style.
What sparked your initial interest in your career?
My mother is a teacher, and my father was a chemist. Together they gave me so many opportunities to be surrounded by science. Whether it was our quarterly trips to the Museum of Science and Industries in Chicago, or other local science-related sites. I was always interested in the ways things worked. I was a student that always asked my teachers why that is so, and how do you know. I felt I was introduced to the natural world at a young age and was encouraged to ask questions about the world around me.
Who influenced you or encouraged you the most?
I would have to say my parents had the biggest influence on me becoming the teacher I am today.
What element of your work/study do you think is the most fascinating?
I love studying the complexity of life, the role of cosmic evolution, and the emerging field of exoplanets. During my Earth and Space Science class, we take an in-depth look at exoplanets and the connection to how we are investigating the formation of complex life here on Earth.
What other jobs led you to your current career?
Teaching was my first career choice, and studying chemistry came naturally after the amount of exposure to science I was given as a child. I was exposed to the natural world and the wonder of science from many different types of museums.
What are your degrees and certifications?
B.S - Chemistry with an emphasis on Secondary Education
M.A. - Curriculum and Instruction
M.A. - Educational Technology
What are your hobbies?
I love golfing and being outdoors.
What advice would you give someone who wants to have a career like yours?
If you love science, go be a part of the scientific community. Scientists are passionate, driven, and determined. We believe in the importance of our work, and the spread of knowledge to all. We like uncertainty, asking questions, and learning new knowledge.