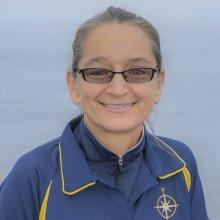 Beth Fowler
Video Engineer
LD, DP, Camera operator
Freelance Television Professional
Tell us about your work / research. What kinds of things do you do?
I work primarily in live television as a freelance lighting director (LD) and camera operator, and also as a director of photography (DP) shooting documentaries about culture and history. I've had the privilege of working on many of the largest live sporting events in history, such as the SuperBowl for CBS, The Indy 500 for ABC, The Masters and the PGA Championship for CBS, several Olympics for NBC and the World Feed organizations.  
What sparked your initial interest in your career?
As a young person, I found great joy in shooting video and photographs, using visual technology to tell a story. This led me to work at a public TV station while in high school and college, while I studied Radio and Television at the University. My entire career has sprung from the joy of working with (and for) intelligent, encouraging and talented television professionals.   
Who influenced you or encouraged you the most?
By good fortune, my (teenaged!) co-workers at public television were a talented and self-motivated group, challenging each other to be the best; significantly, we were supported by supervisors who provided us with the best tools available, and the freedom to create whatever we could dream up.  
What element of your work / study do you think is the most fascinating?
For forty years, I've watched video technology improve and our involvement with media increase at phenomenal rate. As a freelancer, every job is different, has a new set of challenges, and I love that. To join the Nautilus team to remotely explore the most inaccessible parts of the planet, and to be able to share that live with the world is genuinely amazing!
What other jobs led you to your current career?
I've worked at television stations as both a full timer and a freelancer, at a cable network as a technician and a manager, in charge of production at a video production company, as a freelancer for every major network, shot documentaries for museums, non-profits, and my own amusement. And I scuba dive, travel, bicycle and garden to feed my brain and my fascination with living things.
What are your degrees and certifications?
BFA in Radio and Television from the University of Cincinnati, 1983
What are your hobbies?
I cook and garden obsessively, I travel as much as I'm able, and of course, if there's anymore time, there are always motorcycles to ride and roadkill to take apart.  
What advice would you give to someone who wants to have a career like yours?
Working in television is challenging in all the best possible ways: it's physically hard, the hours can be exhausting, the gear is constantly changing, problem solving and learning new equipment are required, and working in large groups is a huge sociology experiment. Clearly, it's not for everyone. But if the above sounds like a fun job description, get access to gear and develop your skill set. There are a number of ways to do this: if you have enough money to buy gear, do so, and use it to tell your own stories, or go to work at a television station (or cable network, or rental house) and work with the best technicians you can find. Ask questions, never stop working, never stop learning. And it doesn't hurt to be positive and happy, wherever you are, whatever circumstances you're facing.
How did you get involved in the Nautilus Exploration Program? How did you get on the ship?
Another Nautilus video technician described her work, and introduced me to the website and to the chief engineer. I'm thrilled to be invited to join the team!
Expeditions
Beth participated in the following Ocean Exploration Trust expeditions: