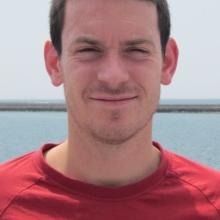 Bertrand Douillard
Navigator
Australian Centre for Field Robotics
Bertrand Douillard works as one of the navigators onboard E/V Nautilus.
Bertrand is currently working as a Post Doctoral fellow in the Australian Centre for Field Robotics in Sydney Australia. He develops object recognition techniques for the new generation of 3D sensors such as the recently released Microsoft Kinect 3D camera. His team has shown that robots equipped with such techniques have a good chance to recognise you in the streets of your neighborhood. He also has recently been working on porting these techniques to underwater platforms to analyse bathymetric maps and multi-beam sonar scans and augment the data streams with semantic understanding. This allows an intuitive indexing of large underwater data sets and facilitates the task of the science community in explaining contemporary large scale climatic and biological patterns.
Bertrand did a PhD in robotics at the Australian Centre for Field Robotics, in The University of Sydney, Australia.