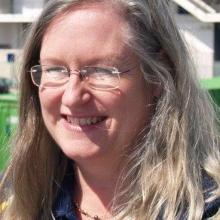 Belinda Spalding
Navigator
Naval Oceanographic Office
Belle is a senior surveyor working with Autonomous Underwater Vehicles (AUVs) tasked to collect oceanographic data worldwide. The AUV program at the Naval Oceanographic Office (NAVO) uses the Remote Environmental Measuring UnitS (REMUS) AUVs, developed by Woods Hole Oceanographic Institution (WHOI). She has also worked with the Seahorse AUV developed by Applied Research Laboratory PennState and the Towed Oceanographic Survey System (TOSS), a deepwater remotely operated vehicle also developed by the great team at WHOI's Systems Lab.
Previously Belle was employed as the US Army Corps of Engineers San Francisco District's Oceanographer, coordinating environmental monitoring of the San Francisco Deep Ocean Dredged Material Disposal Site and for 10 years as a Naval Architect for the US Navy working on submarines.
Belle has a degree in Naval Architecture from Webb Institute of Naval Architecture; with additional course work in marine science at the Sea Education Association.