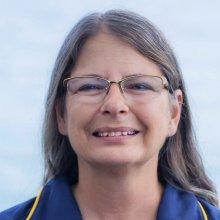 Barbara Rapoza
Ambassador
Teacher
New River Middle School
Barbara J. Rapoza is a 7th grade marine science teacher at New River Middle School. She instructs students in curriculum addressing marine environments, marine life and how human impacts affect ecosystems. Her students are responsible for planting thousands of sea oats along Florida coastlines to help prevent beach erosion and to maintain sea turtle nesting sites.
In addition, for 7 years, Barbara has been the statewide chairperson for the Florida Association of Science Teachers Annual Conference.
Barbara J. Rapoza graduated from the University of Missouri-St. Louis with a degree in Biology. She holds teacher certificates in several science areas for both middle school and high school. She is also National Board Certified in Science.