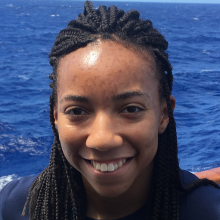 Avery Malachi
ROV Engineering Intern
Graduate Student
Colorado Technical University
Tell us about your work/research. What kinds of things do you do?
Currently, I work at the Orbital Debris Program Office at Johnson Space Center. I help test the code for the Ordem 3.1 program which indicates where orbital debris is currently and predicts where the debris will be in the future. 
What sparked your initial interest in your career?
I've always had an interest in discovering unexplored areas. Space and the ocean are definitely areas that need to be explored further. There is so much you can learn from both, and being a part of all the technology that will come to push us further out into those territories is something I aspire to be a part of. 
Who influenced you or encouraged you the most?
Watching people who were further ahead than me encouraged me to continue along this path. To be honest, I never thought I'd be where I am today, but watching other people make accomplishments made me realize that it's possible. So whenever I begin to doubt myself or reach a roadblock, I mentally tell myself that going back or stopping is not an option and I need to push forward. 
What element of your work/study do you think is the most fascinating?
As of right now I work with orbital debris, so learning how to predict future debris, and all the math involved with that, would have to be the most interesting. Also learning how to the ISS and various spacecraft protect against debris really interested me.
What other jobs led you to your current career?
I've done a few jobs which required hands-on work and others that dealt with more abstract concepts than dealing with the here and now. I have worked as a robotics instructor, at a nanotechnology lab, and completed a robotics internship while in undergrad. Directly after, and currently, I work in the Orbital Debris Modeling Group at JSC as an intern. I believe that you should take as many opportunities as you can even if it doesn't necessarily align with your long term goal- you never know where they will lead.
What are your degrees and certifications?
Associates in Mathematics - Houston Community College 2016; Bachelor of Science in Software Engineering - University of Texas at Dallas (2018); Master of Science in Computer Engineering - Colorado Technical University (Current)
What are your hobbies?
I really like trying out new sports, exploring areas in my hometown that I haven't seen yet, and exercising.
How did you get involved with the Nautilus Exploration Program?
Exploring the ocean was my first love. That being said, learned about the Nautilus Exploration Program from watching the live stream at a conference. When I learned that there was a possibility to be a part of the program- I jumped at it.
What advice would you give someone who wants to have a career like yours?
First and foremost I would say that you have to challenge yourself and don't give up when things aren't easy. By giving up, you stay stagnant and will likely live life on the mercy of others. If something does get difficult, just take it into small manageable doses and keep trying. Lastly, I would say to always stay curious and open-minded - you WILL learn a lot that way. 
Expeditions
Avery participated in the following Ocean Exploration Trust expeditions: