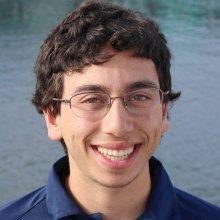 Avery Kruger
Science/Data Team
Specialist
University of California, Davis
Tell us about your work/research. What kinds of things do you do?
I study fish populations in California's Sacramento Delta, where rivers coming from the Sierra Nevada and the Central Valley meet before running into San Francisco Bay. The Delta is home to many unique, native fish, but also one of the most highly-invaded estuaries in the world, not to mention its importance in providing water to Californian people and agriculture. The long-term surveys I work on reveal patterns of relationships between native fish, invading organisms, and other ways humanity influences the Delta.
What sparked your initial interest in your career?
I was first introduced to marine biology and oceanography as a student at UC Davis's Bodega Marine Laboratory (BML). I just wanted an opportunity to learn about the process of research, but I discovered a fascination with the ocean–how intriguing the diversity of shapes and ecological roles in marine invertebrates! How skillfully organisms adapt to and are shaped by the physics of water! Inadvertently, by spending a summer at BML, I changed the direction of the rest of my college career.
Who influenced you or encouraged you the most?
The professors in my department were fantastic–they engaged with me, supported my curiosity, and taught me so many things I never knew I wanted to know.
What element of your work/study do you think is the most fascinating?
I love understanding change, so I love continuing to survey for fish and seeing how they are affected by the weather, the seasons, and each other. Thinking about how processes like geology and anthropogenic change have led to the crazy ecosystems we work with is so fascinating to me.
What other jobs led you to your current career?
My current job is a result of my growth through many experiences I had as an undergraduate and since. I have conducted experiments with eelgrass, marine grass, as a research assistant; researched sea urchin larvae as a student at BML; helped provide opportunities to other students as a leader of my school's ecology club; and detected viruses in sea stars to give high school students an opportunity to try research for themselves. All of these experiences have helped me develop the intellectual curiosity, technical abilities, and writing skills needed for me to continue developing as a scientist.
What are your degrees and certifications?
Bachelor of Science in Evolution, Ecology, and Biodiversity, with a Minor in Oceanography – UC Davis 2016
What are your hobbies?
I love rock climbing, running, and playing ultimate (frisbee). I also dancing!
What advice would you give to someone who is interested in a career like yours?
When you attend college, engage as much as possible in the classes you find interesting. Attend office hours! Your professors can help you more than you imagine; they will be the people who will write you letters of recommendation or help you get experience, and they will be happy to do so if you demonstrate you are interested and invested in your field of study.
How did you get involved with the Nautilus Exploration Program? How did you get on the ship?
My first time on board was after I was chosen to be a Nautilus Ambassador as an Eagle Scout from the BSA's San Francisco Bay Area Council.
"I am excited to sail aboard the Nautilus because the ocean has intrigued and awed humans since they encountered it, and helping discover its secrets will be an amazing experience!"
Expeditions
Avery participated in the following Ocean Exploration Trust expeditions: