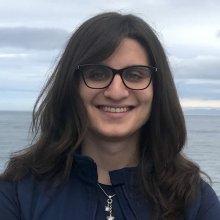 Aubree Zenone
Echoscope Specialist
Business Solutions Adviser
Coda Octopus Products
Tell us about your work/research. What kinds of things do you do?
I work with groundbreaking acoustic technologies to find solutions for difficult problems that require real-time decision making while underwater. I first work with a client to identify the easiest integration possible for our equipment and provide them with the information necessary for a successful deployment. I then travel with the equipment to the client's site and provide training in the use of the equipment and associated software, and troubleshoot any issues with the help of our Support team. I have projects all over the world and am often on-site with a client for several weeks at a time.
What sparked your initial interest in your career?
I've always had a fascination with the ocean, most probably the result of a combination of yearly trips to the Outer Banks and an amazing marine biologist that I saw on Bill Nye the Science Guy as a child. Adding to this, the nature documentaries on the Discovery Channel were always my favorite, especially coral reefs. I couldn't believe the beauty and unique nature of the habitats that seemed so far away to a little girl in land-locked Pennsylvania. After getting my SCUBA certification and taking a dive trip to Cozumel, Mexico, I knew I wanted to study the ocean, and especially coral reefs. That eventually led to my master's degree in marine science, using acoustic technologies to study fish community dynamics in Florida reefs. I love these tools and am excited to continue to apply them to new situations!
Who influenced you or encouraged you the most?
My graduate advisor, Dr. Kevin Boswell. He never once doubted me and always seemed to have the right advice for every situation. Acoustics is a highly intimidating field to enter for an ecologist, and he made it accessible!
What element of your work/study do you think is the most fascinating?
The most fascinating thing that acoustics has ever led me to has been to live underwater for 17 days on the Aquarius Research habitat with Fabien Cousteau. During this time we studied predator-prey interactions on coral reefs and also participated in a number of outreach opportunities that reached hundreds of thousands of people!
What other jobs led you to your current career?
Well, I guess it all started with my internship as an Aquarist at the National Aquarium in Baltimore. I worked with the reef tank and it solidified my desire to go to graduate school. I was then a Masters Student studying coral reefs, before becoming a lab manager for my advisor. After this, I worked for an Everglades research lab and realized I missed my reefs, so I took a position as the Assistant Manager/Awareness and Appreciation Coordinator for the Florida Department of Environmental Protection's Coral Reef Conservation Program. I then realized I missed my acoustic technologies, and found a position here at Coda Octopus. Through it all, I've done my best to learn the newest and greatest science communication techniques, and have had many networking opportunities that have led me to such lucky experiences as living underwater and swimming in the Arctic Ocean.
What are your degrees and certifications?
Bachelor of Science with a Concentration in Evolution and Ecology -- Clarion University of Pennsylvania 2011; Masters in Marine Science -- Florida International University 2015
What are your hobbies?
I love to SCUBA dive when the opportunity presents itself, take photos for my walls at home, play a lot of video games, and chain watch good Netflix series.
How did you get involved with the Nautilus Exploration Program?
Dr. Larry Meyer had a need for real-time decision making while driving the Hercules ROV and hired my company to provide a sonar solution. I am here to train the ROV pilot on interpreting the sonar data and using the equipment, and to provide support as necessary!
What advice would you give someone who wants to have a career like yours?
If you want to get into acoustics or coral reef research, do everything you can to develop solid study and work techniques during your undergraduate! Learn all the ways that you can to really understand the broad ecological concepts, so that you can later apply them to your own study system. Take every opportunity you can that presents itself to you! If you start paying attention, there are a surprising number of them. Don't limit yourself to opportunities that only apply directly to your field either, because you never know where it will lead you, or who you will meet! Put yourself out there, keep your end goal in mind, and with determination you will wind up where you want to be.