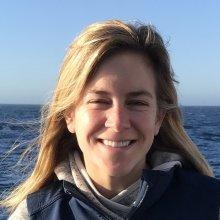 Ashley Siana
Video Engineering Internship
Graduate Student
Montana State University
Tell us about your work/research. What kinds of things do you do?
I have a Masters in Marine Science and an MFA in Science & Natural History Filmmaking. My goal is to create films that advocate for natural protected areas and a healthier relationship between society and our natural ecosystems, one that finds compassion and understanding through connectivity.
What sparked your initial interest in your career?
I have always had an interest in the natural world and environmental issues. My interest in film is rooted in knowing that films can serve as an application for environmental issues and have the ability to create measurable changes in our world. 
Who influenced you or encouraged you the most?
Some of my strongest influences include environmental literature that shed light on the complexity of the natural world, such as Cross Creek by Majorie Rawlings  
What element of your work/study do you think is the most fascinating?
I love creating documentary films that help the viewer recognize the importance of natural systems and resources in new ways. 
What other jobs led you to your current career?
My jobs in marine science (invasive species removal, fisheries stock assessment) led to an interest in sharing the underwater world with others through photography and video.
What are your degrees and certifications?
Bachelor of Art in Environmental Studies & Sustainable Development - Rollins College 2010
Master of Professional Science in Marine Science - University of Miami 2016
Master of Fine Art in Science & Natural History Filmmaking - Current
What are your hobbies?
I Iove scuba diving, filming, fly-fishing, foraging for wild mushrooms, and roaming the Montana wilderness with my dog, Mayfly. 
How did you get involved with the Nautilus Exploration Program?
I learned about the Nautilus Exploration Program through other students that had gone through the film engineering internship as well as through watching the Nautilus Live videos in awe! 
What advice would you give someone who wants to have a career like yours?
Do whatever interests you as often as possible. Never underestimate what a proactive passion and seeking help from those you admire may lead to. 
Expeditions
Ashley participated in the following Ocean Exploration Trust expeditions: