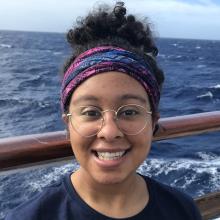 Ashley Mickens
Ocean Science Intern
Graduate Student
University of Victoria
Tell us about your work/research. What kinds of things do you do?
During my undergrad, I worked primarily on biogeochemical cycles in freshwater ecosystems. Specifically, I studied how nitrogen and methane cycling might influence ecosystem health and quality, as well as contribute to climate change. Since I went to school in the Midwest, this was especially important for agriculture, where it's common for fertilizer runoff (which generally contains a lot of excess nitrogen) to cause algal blooms or other problems. Methane is a potent greenhouse gas that can be produced by organic decomposition in lakes and streams. To understand these cycles, I collected both water and sediment samples from local reservoirs and analyzed them in a lab. The results were incorporated into some long-term ecological monitoring projects and will help to better understand the relationship between climate change and our freshwater resources. For my grad program (which I just started), I will be looking at how fish respond to changes in nutrients and water quality due to climate change and urbanization. I hope that this work will be used to aid marine fisheries with resource management and future planning.
What sparked your initial interest in your career?
As a child, I loved looking for fossils in streambeds and playing in the water. I always had so much fun exploring outside and learning about nature. In high school, I went on a group trip to the Bahamas, and I learned how to scuba dive there. The instructors also taught us about marine and island ecology, which really sparked my initial interest in environmental science and sustainability. In college, I continued to take environmental science and geology classes, which crystallized my interest in the field.
Who influenced you or encouraged you the most?
My parents have encouraged me to be curious throughout my life. Early on, they taught me the value of education, whether inside or outside the classroom. My undergraduate mentors also impacted me greatly. They introduced me to scientific research and gave me the encouragement and support that I needed to succeed in pursuing my goals.
What element of your work/study do you think is the most fascinating?
I love finding the connections between seemingly unrelated factors. The more I read, study, and research, the more I realize that almost everything is connected on some level. I also love getting my hands dirty with research and fieldwork. Part of the reason I became a scientist was so that I could keep playing with mud.
What other jobs led to your current career?
My current career path has taken me on some twists and turns due to my diverse interests. Throughout undergrad, I worked on freshwater ecology research and participated in NSF- funded REU (research experience for undergraduates) programs. I also write for a marine science communication blog called Oceanbites. This has given me a lot of experience with both marine science and science communication, which I have found to be invaluable. During the pandemic, I worked briefly as a marine mammal observer for a company called RPS. It was incredible seeing turtles and dolphins in the open ocean!
What are your degrees and certifications?
Bachelor of Arts in Environmental Science & Sustainability -- Miami University of Ohio 2020; Masters of Science in Biology -- University of Victoria (current); PADI Advanced Open Water Diver
What are your hobbies?
I've always loved cooking and baking, but my pandemic project was learning how to make ice cream. So far, I've made over 15 different flavors! In my spare time, I also enjoy reading fantasy novels, scuba diving, and traveling someplace new.
What advice would you give someone who wants to have a career like yours?
I feel like I could write a paper full of advice, but I'll settle for five things that have worked well for me. First, I would advise finding people who will support you. I would not be where I am today without everyone who has supported and encouraged me throughout my career. Second, I would say that you should always be on the lookout for opportunities. You never know when one opportunity might lead to another. Third, it's very important that you learn transferable skills, such as coding, data analysis, and writing, so that you can be prepared for a variety of positions. Fourth, don't be afraid to ask questions. I've found that this is one of the best ways to show that you're both interested and invested in your field. Finally and maybe most importantly, be persistent. You may encounter difficult people or situations, but working through them (or around them) shows your dedication and resilience as both a researcher and a person.
How did you get involved with the Ocean Exploration Trust?
During my final semester of undergrad, I was looking for a hands-on sea experience. I had previously watched some NOAA broadcasts featuring ROV dives and wanted to try something similar. So, I went down a very long Google rabbit hole and ended up at the OET site. After looking around and watching some of the content, I realized that I had found the perfect opportunity.