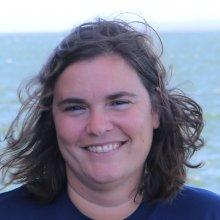 Ashleigh McCord
Seafloor Mapping Intern
Recent Masters Graduate
Duke University
Tell us about your work / research. What kinds of things do you do?
I have an interdisciplinary background in marine science and policy and studied topics ranging from strategic planning to marine geospatial analysis as part of my master's degree. I am currently an environmental planner for Washington State. I work on oil spill preparedness planning, which involves coordinating with private industry and government agencies to help protect Washington's unique places and resources. 
What sparked your initial interest in your career?
 As an undergraduate, I primarily studied film but spent a semester abroad with SEA Semester. I had been interested in marine science for years, but sailing on a tall ship research vessel was my first opportunity to get hands-on experience in the field and to understand how my interests in social science and the arts could play a role in an ocean-focused career. Then, after college, I moved to Cape Cod. After a few years of living and working in a coastal community, I knew I wanted to go back to school for coastal and marine management so I could be better able to help take care of unique and fragile places like the Cape and to ensure our important marine resources are managed sustainably.  
Who influenced you or encouraged you the most?
The faculty and staff on my SEA Semester trip, as well as those I later worked with in their Woods Hole office, introduced me to a lot of different potential career pathways related to ocean science and conservation. I've also been supported by many great supervisors, faculty, and mentors in my past work experience and at the Duke Marine Lab. I feel particularly lucky to have been surrounded by so many strong, talented women working in STEM fields who set great examples and encouraged me along the way. 
What element of your work / study do you think is the most fascinating?
I chose to study environmental management because I was interested in interdisciplinary approaches to addressing environmental challenges, so I enjoy the opportunity to work with people with different backgrounds and perspectives to achieve our shared goal of protecting marine resources. Working in planning doesn't always come with the same kind of excitement as field work or deep-sea exploration might. But, it allows me to learn about how environmental science, policy, and communications interact, and to understand the bigger picture I'm contributing to with my work. In my current job, I also have the opportunity to observe and participate in oil spill drills, including seeing response equipment tested in the field.
What other jobs led you to your current career?
After finishing my undergraduate degree, I spent several years working with an AmeriCorps program on Cape Cod. My AmeriCorps service focused on natural resource management and gave me a chance to try everything from shellfish propagation to chainsawing for trail maintenance to environmental education. It also introduced me to different types of community groups, local governments, and federal agencies and their roles in coastal resource management. Most recently, I worked for the state of Washington on a Marine Spatial Plan for Washington's Pacific coast. This was an opportunity to not only apply the data and mapping skills I gained at Duke but also to learn more about the ecology and marine resources of the Pacific Northwest, which is relatively new to me. 
What are your degrees and certifications?
Bachelor of Arts in Film and Electronic Arts: Bard College 2008; Masters of Environmental Management: Duke University's Nicholas School of the Environment 2016
What are your hobbies?
I love traveling, hiking, and really any excuse to get outside, especially now that I live in the Pacific Northwest and have so many beautiful places to explore. When it's too cold or rainy for a native Texan to truly enjoy the outdoors, I also am a paper artist, oboist, and all around avid crafter. 
What advice would you give to someone who wants to have a career like yours?
I think building strong communication and other professional skills along with technical or field-specific skills are one of the best things you can do for yourself. Being able to share your passions and knowledge with others outside your field is often important just as important as doing the work itself, particularly when it comes to the sciences. Taking advantage of any opportunities to strengthen your writing, communications, or outreach experience will likely serve you well no matter which direction your career takes you.  
How did you get involved with the Nautilus Exploration Program? How did you get on the ship?
I first heard about Nautilus at a talk by Bob Ballard some years back, but have heard great things about the program from many folks at both SEA and Duke who have participated in different capacities. I was interested in an experience that combined my interests in science communication and mapping technology, and a chance to spend some more time at sea. 
Expeditions
Ashleigh participated in the following Ocean Exploration Trust expeditions: