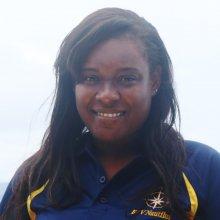 Argel Horton
Marine Biologist
Government of the British Virgin Islands
Ms. Argel Horton is a Marine Biologist with the Government of the British Virgin Islands and will be boarding the vessel as a guest. Ms. Horton is a 2013 graduate of the University of the Virgin Islands. Upon returning to the BVI, Ms. Horton works alongside the Ministry of Natural Resources and Labour in deciding environmental friendly ways developers can construct items, creating a minimum environment impact, managers and supervises the Virgin Islands Marine Turtle Program, prepares CITES documentations and more. In 2014, Ms. Horton has succeeded in helping the BVI Government with the establishment of protecting of Sharks and Rays. The entire EEZ of the British Virgin Islands is now a shark sanctuary where it is illegal to capture or kill sharks.
Ms. Horton graduated from the University of the Virgin Islands in 2013 with a Bachelors degree in Marine Biology. 
I am very excited to sail aboard Nautilus because we are going to figure out one of the many mysteries of the sea mounts. What makes it so special and rich with Biodiversity? How was it form and what makes those found around the BVI so different from others. Mapping out the seafloor and being able to understand the region will help the Conservation and Fisheries Department in issuing stronger legislation and protections from the data gathered. I am a recently graduated scientist and I am still eager to learn. Hopefully, from this exploration, I will be able to narrow down what area of concentration I would like to focus my Masters degree on. 
Expeditions
Argel participated in the following Ocean Exploration Trust expeditions: