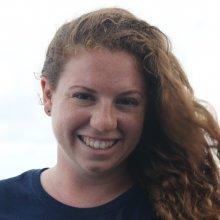 Antonella Wilby
Argus Pilot
Marine Robotics Engineer
Stone Aerospace
Tell us about your work/research. What kinds of things do you do?
I am a marine robotics engineer, computer scientist, conservation technologist, and occasional adventure photographer. In addition to my seagoing and engineering work I'm finishing up my PhD at the Contextual Robotics Institute at UC San Diego. My work focuses on building robotic systems and developing algorithms to enable autonomous ocean exploration in complex, dynamic environments. I'm applying this work to mapping critical marine ecosystems, like coral reefs and marine vegetation, in order to give ecologists and biologists enhanced tools for understanding ecosystem dynamics. Additionally, I build custom underwater technologies for conservation applications, such as underwater imaging systems for monitoring endangered marine populations. Basically, if there's a robot or other technology that can help us push past our human limits to explore uncharted environments and make scientific discoveries, I want to build it!
What sparked your initial interest in your career?
As a kid the outdoors was my greatest love, but I also loved working with my hands. Only the latter seemed a viable career option. When I started high school I planned to focus on playing the cello but was convinced by a math teacher to join the robotics team. I didn't have a clue what I was getting into at the time, but it turned into four years of building drive trains and custom mechanisms for robots to play 3-on-3 "basketball", race around a track as fast as possible, and chase each other on a slick surface intended to simulate the low-gravity effects of the moon while trying to score balls into moving targets. After graduating I knew I wanted to keep building awesome robots! I started college intending to study engineering but had no idea that robots and engineering could be used to explore the farthest reaches of our planet. It wasn't until I transferred to UC San Diego and got involved with a team-building an Autonomous Underwater Vehicle that I realized that I could combine my love of outdoor exploration with my love of building things, and that experience set me on the path I'm on today.
Who influenced you or encouraged you the most?
I've always been inspired by inventors because they use technology and creativity to solve real-world problems. I quite admire the work of Dean Kamen, whose hundreds of inventions have changed the world for the better. Also, I had two amazing physics teachers in high school and community college who encouraged me to keep pursuing engineering. 
What element of your work/study do you think is the most fascinating?
There is a constant focus on the unknown in all of my work, which is incredibly exciting. Whether it's trying to program a robot to navigate autonomously with noisy sensors in a harsh environment, or wondering what unseen creatures we'll discover with an ROV in the deepest parts of the ocean, there is always the possibility for new discovery.
What other jobs led you to your current career?
Most of my jobs have been in research and engineering, except for a few years in community college when I worked as an orchestra librarian and math tutor. The job that started me on the path to what I'm doing now was working as a field engineer with UCSD Engineers for Exploration, where I built technologies to support conservation and field research for organizations like NOAA and the San Diego Zoo.
What are your degrees and certifications?
C. Phil (PhD Candidate), University of California, San Diego, 2020
Master of Science in Computer Science, University of California, San Diego, 2019
Bachelor of Science in Computer Science, University of California, San Diego, 2015
American Academy of Underwater Sciences (AAUS) Scientific Diver, 2018
What are your hobbies?
I love going on outdoor adventures—the gnarlier the better—especially canyoning, caving, SCUBA diving, bikepacking & backpacking, and kayaking. When I'm not wandering around outside, I also enjoy weight lifting, playing the cello and piano, cooking cuisines from around the world, and restoring old cars. Basically, if an activity involves a large piece of equipment, a bunch of ropes and heavy gear, or a big toolbox, I'll probably be into it.
What advice would you give someone who wants to have a career like yours?
Don't let anyone tell you you have to fit into someone else's arbitrary, rigidly-defined mold, for career or for life. Analytical skills are important to engineering, but so too is creativity. Let your curiosity guide you to work on things that matter to the world.
How did you get involved with the Nautilus Exploration Program?
I started out as an ROV Engineering Intern in 2018 on an expedition on the Lō'ihi Seamount in the Hawaiian Islands.
Expeditions
Antonella participated in the following Ocean Exploration Trust expeditions: