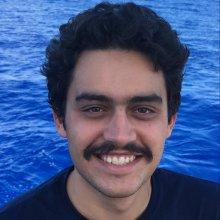 Anthony Scopazzi
Video Engineering Intern
3/C Marine Transportation Cadet
University of California Maritime Academy
Tell us about your work/research. What kinds of things do you do?
I am a Marine Transportation cadet at California Maritime Academy, meaning I will leave college with a B.S. and a Third Mates license from the Coast Guard. The license would allow me to work on all the large vessels you see in ports all around the world. I started my own film business in high school and have been doing weddings, commercials, event, and other videography and photography since. 
What sparked your initial interest in your career?
I grew up on my families charter yacht on San Francisco Bay and when I was old enough I began working. As a senior in high school, I took, and passed, a 6-pack license course, leading to me getting more interested in the maritime field. Nowadays I will be First Mate and Chef for anything from weddings to memorials. For my artistic side: My grandma is an artist who handed me her camera when I was a kid and I haven't stopped taking photos since.
Who influenced you or encouraged you the most?
My deck teachers at school are phenomenal and have helped and encouraged me with where I would like to see my life go. My 6-pack license course teacher who had known me for many years is a big reason I am at California Maritime Academy. My grandma has always encouraged me to create art. 
What element of your work/research do you think is the most fascinating?
The college I go to is not a normal college. I get to drive boats, drive forklifts, operate cranes, use a state of the art bridge simulator, and travel onboard an actual ship, as part of college.
What other jobs led you to your current career?
I've worked quite a few jobs and I feel as if they have all led to my current place in life. I have worked for a high-end catering company, wholesale bakery for restaurants, a different catering company, charter yacht, and have my own film business, all at the same time. My current and former jobs have taught me what it is like to work hard and get work done in a team atmosphere, which helps anywhere you go. 
What are your degrees and certifications?
Currently, a college student working on a B.S. in Marine Transportation and Third Mates license 
What are your hobbies?
I love photography and video. I love being in nature. Whether that's on the water, backpacking, or hiking it is always a good time and can be some fun adventures. 
How did you get involved with the Nautilus Exploration Program?
I first heard about the Nautilus program quite a few years ago, so when someone at my school sent out an email saying this year's applications were open I figured I should apply. The video engineering internship sounded like the perfect mix of the two things I love to do in this world, so I just had to apply. 
What advice would you give someone who wants to have a career like yours?
If you wanted to become a merchant mariner there are a few things to think about. As a field of work, it isn't the largest and it is a lifestyle decision, as being away at sea for a lot of the year is definitely a choice you need to think about. That being said, one can make a good living and have plenty of time to travel and have time off. Think about it, talk to people who have/are doing it, and decide if it is right for you.