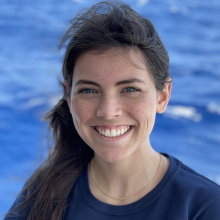 Annabelle Adams-Beyea
She/Her
Science/Data Team
Undergraduate
Eugene Lang College of Liberal Arts at The New School
Tell us about your work/research. What kinds of things do you do?
I am an undergraduate student interested in how microbes live in extreme environments like the oceanic crust and how they contribute to the local and global environment. I am learning laboratory and computer-based skills to understand how these unique organisms live in such a cool place.
What sparked your initial interest in your career?
As a kid growing up near the ocean, I was fascinated by the very different types of life that live in the water. At the beach, my favorite thing to do was watch tide pools for hours. This childhood interest led me to study biology in college because I wanted to learn more about ecological systems. In my first year of college, a professor introduced me to environmental microbiology, and I was fascinated by microbial systems and the amazing environments where bacteria live. I was very fortunate to intern in Dr. Beth Orcutt's lab at Bigelow Laboratory where I learned about bacteria living in the deep sea and oceanic crust. This experience opened my eyes to how important this environment is on a global scale and how much we have left to learn about the organisms living there. Since this first internship, I have dug deeper into studying bacteria from extreme environments and I hope to continue researching these really fascinating organisms and their environments.
Who influenced you or encouraged you the most?
I am very grateful to have had wonderful mentors who believed in me and provided me with opportunities to expand my learning. I am especially grateful to those who introduced me to the deep-sea environment and encouraged me to pursue this research.
What element of your work/study do you think is the most fascinating?
I am most fascinated by the tools and methods people use to study microbes that live in the deep-sea. Since this environment can be hard to access and the microbes can be challenging to study, I am constantly amazed by the technology scientists use to make discoveries.
What other jobs led you to your current career?
I am very fortunate to have had opportunities throughout my academic career that supported my interest in environmental microbiology. Projects I have worked on include studying antibiotic-resistant bacteria in NYC waterways, using genomics to understand bacteria in the ocean crust, and learning how to use novel methods to study bacteria we can not grow in the lab. All of these opportunities helped in my understanding of the scientific process. I also worked as a teaching assistant in the science education lab at my university. There, I developed science communication skills which I am always trying to improve upon. Helping students be excited about science is one of my favorite things!
What are your degrees and certifications?
I am a current undergraduate student in Interdisciplinary Science at The New School with expected graduation in May 2022.
What are your hobbies?
I love adventuring outside! My favorite activities are hiking, biking, and canoeing.
What advice would you give someone who wants to have a career like yours?
Seek out opportunities and be open minded about these experiences - take them regardless of how directly related they are to your end goal. Always ask questions to others and yourself as this can greatly extend your learning and thinking. Be ready to make mistakes and learn from them. And invest in relationships with people in the field that you enjoy learning or working with!
How did you get involved with the Ocean Exploration Trust?
I interned for the lead scientist and was invited to join the expedition team. I am honored to join this team!
Expeditions
Annabelle participated in the following Ocean Exploration Trust expeditions: