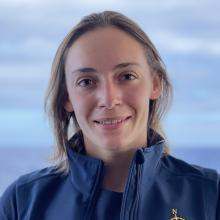 Anna Sulc
Seafloor Mapping Intern
Undergraduate
University of Washington
Tell us about your work/research. What kinds of things do you do?
I am involved with two projects at the moment. I am one of Dee Boersma's undergraduate researchers in her Ecosystem Sentinels lab. While her lab focuses on Magellanic and Galapagos Penguins, her project aims to use marine animals as an early warning system for the strain anthropogenic activities put on our oceans. With the lab, I have had the opportunity to do fieldwork at Punta Tombo, one of the largest Magellanic Penguin colonies in the world. Fieldwork involves checking marked nests with banded birds on a regular basis, weighing and measuring adults, eggs, and chicks and attaching and recovering satellite trackers. Being isolated in a remote location all while being surrounded by animals that I love and want to protect makes the experience a welcome break from a busy life at the university. When I am not in the field, I help with data maintenance or work on my independent research. For my research, my interest revolves around the satellite trackers we use to determine what the birds do when they are foraging at sea. As an oceanographer, I want to know how animals are impacted by large scale ocean processes. I am comparing ocean productivity using NASA satellite images with the foraging trips of GPS tagged breeding Magellanic penguins. I hope to establish a connection between where penguins go and what is in the water column on a microscopic and chemical level. When I am not working at the Boersma lab, I am involved with Professor John Delaney and his Global Ocean – Human Culture (GO-HC) class and outreach project. GO-HC aims to introduce a broad audience to the oceans through its cultural value in addition to its environmental importance. Most of us think of the oceans as something related to the sciences: we study the physical movements of water, the lives of marine animals and how they depend on the environment that surrounds them. GOHC wants to study the ocean's place in our art, songs, economy, media and our future. At the moment, I am working to get high school classrooms engaged with the oceans and to have students share the value of the marine world with their community through videos and projects.
What sparked your initial interest in your career?
I was born in San Diego and I lived within walking distance from the beach and from the Scripps Institution of Oceanography for the first 12 years of my life. I would spend my free time and weekends in the water surfing and sailing. If I was not in the water, I was searching the tide pools for critters or at the Scripp's Aquarium with my father. Marine life fascinated me as did the vast Pacific Ocean, I wanted to understand this central element of my life as best I could. As I got older, I did not lose that desire to know more about water and the oceans. Going to the University of Washington to study Oceanography let me do just that.
Who influenced you or encouraged you the most?
I owe my career and my passion for the ocean to my mother. As a polymer chemist and her position as the head of a laboratory inspired me to pursue a research-based career. In addition, her passion for saltwater and nature in her free time gave me the chance to grow up spending as much time as I did around wildlife and exploring the outdoors. Throughout my studies, her guidance, advice, and support have helped me make some of the major decisions that have shaped my career.
What element of your work/study do you think is the most fascinating?
The most fascinating thing I have done lately has been returning to Punta Tombo, Argentina this fall to spend another 7 weeks doing fieldwork. Being able to observe and interact with Magellanic penguins in their natural environment gave me a detailed understanding of penguin biology but also improved my understanding of the data I work within the lab. While I knew I loved working with the penguins already, coming back this past season and seeing the same birds from the previous year back with their partner and in good health was really gratifying and made the work all the more enjoyable.
What other jobs led you to your current career?
As someone who loves the outdoors, I see my hobbies as a means to explore remote places and to share them with others. As a rock climber, I began by teaching classes in climbing gyms and even participated in several that took students outside. A big part of being a climber is understanding and helping with the conservation of the outdoor areas and parks that you use to pursue your athletic goals. In the same way, I wanted to ensure that new climbers in the community understand our impacts on the environment with this sport and showing them how we can work to ensure that our use does not destroy, I found that I wanted to share science with those around me and raise awareness about the oceans.
What are your degrees and certifications?
I am working towards a double degree: a Bachelor of Science in Oceanography and a Bachelor of Arts in French. I plan to graduate this coming winter.
What are your hobbies?
I love to rock climb. I spend much of my free time climbing and exploring the mountains of Washington state. I am also part of the University of Washington's climbing team and compete in the Collegiate Climbing Series. I have recently started backcountry skiing and mountaineering as well so that I can play outside even in the snow.
How did you get involved with the Ocean Exploration Trust?
I heard about the Ocean Exploration Trust from Professor John Delaney who talked about the dedication of the program to both research and on outreach. I looked up the project and loved the live stream videos of the deep-sea world that previous expeditions had shared. I knew I wanted to be involved. I found out about the Sea Floor Mapping internship, a program that uses some of the methods I was familiar with already but applies them to an entirely different environment, and applied for a position.
What advice would you give someone who wants to have a career like yours?
What was most important for me when I was picking a career path was to make sure my work was something that I felt passionate about and something that I could see myself becoming completely absorbed in. I started out by determining exactly what I did not want to do. On top of that, I knew I wanted to understand and protect the ocean all while sharing it in a way that captivated others. I also love the outdoors and wanted to be out in the field. I worked towards finding jobs that could satisfy those requirements and found my way towards oceanography and ecology.