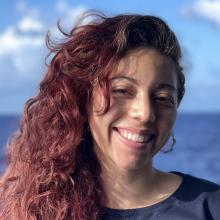 Angellica Diaz
Seafloor Mapping Intern
Graduate Student
Northeastern University
Tell us about your work/research. What kinds of things do you do?
I am studying geospatial sciences at Northeastern University. My studies focus on building online maps and learning how to gather information about Earth's surface using satellite, radar, and sonar technology. Have you ever looked out of the window of an airplane and it seems like the buildings become smaller and smaller until they look like tiny splotches on the ground? Satellites capture images of Earth's surfaces which look very much like the view from an airplane window. My task is to then look at the images and figure out what the little splotches are. Once I gather this information I can use it to track changes on Earth's surface overtime and create points on a map.
What sparked your initial interest in your career?
I decided to pursue a career in geospatial sciences because I was fascinated with the diversity of Earth's landscapes. I wanted to explore jungles, deserts, mountains, and tundras around the world as well as, catch a glimpse of what these places would look like from a bird's eye view. After finishing a solo hike from Canada to Massachusetts, I realized I was really interested in mapping mountains. However, it wasn't until after taking a few courses in graduate school that I realized some of Earth's tallest mountain ranges were found underwater. I had become fascinated with exploring and mapping underwater mountain ranges. Only 5% of the ocean floor is mapped with multibeam sonar which leaves many mountain ranges and underwater landscapes yet to be explored!

Who influenced you or encouraged you the most?
My grandmother has influenced me the most to become the explorer I am today. She grew up on the coast of Honduras where she spent her days braving the ocean waves, sailing between islands, and hiking through tropical forests. She has helped me form a deep relationship with nature and her stories encourage me to move boldly towards the unknown. Everyday, she motivates me to continue exploring all of the beauty the Earth has to offer.
What element of your work/study do you think is the most fascinating?
The most fascinating element of my work is getting to explore unmapped terrain!
What other jobs led you to your current career?
While most of my jobs have been related to program coordination and administration, it was my international travels and hiking adventures that led me to my current career path. As an undergraduate student, I traveled through the mountains of El Salvador, stood at the top of the world's tallest building in Dubai, almost had my jeep tipped over by elephants in Tanzania, and hiked the ruins of Guatemala. After finishing my undergraduate degree, I solo hiked 300 miles from Canada to Massachusetts! I am always accepting opportunities that allow me to experience wild landscapes in new places and engage with the local wildlife.
What are your degrees and certifications?
Bachelor of Science in Business Administration– Babson College 2020; Masters of Professional Studies in Geospatial Sciences – Northeastern University Current
What are your hobbies?
I love backpacking and bouldering. I also enjoy experimenting with plant-based Mexican recipes and creating clay jewelry.
What advice would you give someone who wants to have a career like yours?
If you want to map the ocean floor, then start small by learning how to map the land around you. Hiking and walking through nature are great ways to begin understanding how objects and places relate to one another spatially. If you have the chance, take classes that teach you how to use information technology to create maps and analyze spatial data. Once you learn the basics of the software you can apply it to almost any area of study you are interested in. Be patient and learn how to make the most of the resources around you. Don't be discouraged if an organization says there are no opportunities available, the best opportunities sometimes come from where you least expect them. If there is not an available internship for something you are interested in then get creative and create an opportunity for yourself. Whatever you choose to pursue, be open to the unexpected. Dream big because there are no limits to exploration and adventure is all around you.