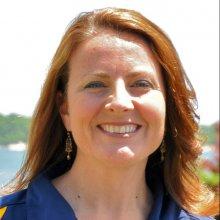 Angela Murphy
Manager, Travel and Logistics
Travel & Logistics Manager
Ocean Exploration Trust
Tell us about your work/research. What kinds of things do you do?
My role is to communicate with the port authorities to prepare for the arrival and operations of EV Nautilus in each destination. My team coordinates all of the travel and logistics for the Corps of Exploration during each expedition leg. 
What sparked your initial interest in your career?
When my dad was in the Navy, he collected photo slides of every destination he traveled to. When I was little, he gave me a slide projector, the slides and a screen. I would spend hours looking at these exotic places and promised myself that I would visit them all one day. I completed an internship at a travel agency when I was in high school and that sealed the deal for me. I had a full blown case of wanderlust. As of 2018, I will have visited 40 countries and many outlying territories.
Who influenced you or encouraged you the most?
My mentor in college was a very strong influence on me. She was able to show me that the travel industry had many career paths and helped me get creative with my future. She was absolutely right. My career has been amazing. 
What element of your work/study do you think is the most fascinating?
I am fascinated by history and cultures of the world. My favorite days at work are when we are diving on history- I am glued to Nautiluslive.org
What other jobs led you to your career?
I have had some odd jobs- airport greeter, tour guide, ticket sales for Greyhound bus tours. I was a sales rep for an ultra luxury island resort in Fiji. I was the manager of the US sales office for the famous Orient-Express trains of the world, I sold African Safaris and worked for tour operators specializing in custom trips to South America and Europe. All of these jobs provided a strong background of international geography, intercultural communication as well as the technical know-how required for my current position. I am also heavily involved in the travel industry at large and stay current on industry trends and processes. I am the Vice President of the American Society of Travel Agents and National Association for Career Travel Agents- Greater Portland Chapter. 
What are your degrees and certifications?
AS Travel and Tourism- Mt. Hood Community College
Certified Travel Counselor- The Travel Institute
Accredited Cruise Counselor- Cruise Line Industry Association
Verified Travel Agent- American Society of Travel Agents (in progress)
What are your hobbies?
I am music obsessed and love attending concerts. I love to walk/hike, cook and read historical fiction. 
What advice would you give someone who wants to have a career like yours?
Get educated, certified and connected to local industry groups. Focus on broad exposure to many of the different areas of the industry- tourism vs. hospitality vs. sales vs. airline etc. The ever changing travel industry is one of the largest employers in the world. There is a career path for you!
How did you get involved with the Nautilus Exploration Program?
I was looking to re-enter the travel industry after taking a career break to become a mom. I wanted to do something different after having been in the luxury travel industry for many years. I answered a very intriguing ad on Craigslist and the next thing I knew, I had the coolest job in the world!