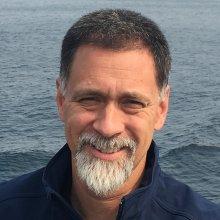 Andy McLeod
ASV Scientist/Engineer
Research Project Manager
University of New Hampshire
Tell us about your work / research. What kinds of things do you do?
I design and build the equipment to improve the operations of the UNH ASV fleet. This includes computer interface to sensor systems and the basic command and control package that comes with any given ASV. Communication improvements including antenna arrays and configuration. Most of our sonar systems are donated to be tested on ASV's, as such we design and build mounting systems to accept any number of units from select partner companies. Deployment and retrieval strategies are critical to the long-term usability of any given ASV, this season we have developed a ring and bail structure that folds nearly flat to the deck of the ASV which we'll be testing prior to the cruise and hopefully during the cruise.
What sparked your initial interest in your career?
This part of my career melds my previous experience in the US Navy Submarine Force, my degree in Ocean Studies from Maine Maritime Academy and work in the oil and gas industry as an ROV pilot and electrical engineer for Oceaneering Advanced Systems. I have taken this related and wide-ranging experience into the academic world to help improve the field utility of ASV's.
Who influenced you or encouraged you the most?
Dr. Stephen Fegley, formerly at MMA and now at UNC, taught me the fundamentals of experimental design and worked diligently to demonstrate the integrity of data acquisition and processing. He had high standards and I hold him the highest esteem.
What element of your work / study do you think is the most fascinating?
The public's reaction and interaction with robotic boats. The enthusiasm is uniform across all ages and disciplines.
What other jobs led you to your current career?
Submarine Sonar Technician, ROV Pilot, and Engineer
What are your degrees and certifications?
Bachelor of Science in Ocean Studies -- Maine Maritime Academy 1998
What are your hobbies?
I have a 240-year-old farm in which I am in nearly unending renovation cycles. We have horses, Lama Llama, Lama Alpaca, chicken, pigs, mice, dogs, cats, and kids. They keep me busy.
What advice would you give to someone who wants to have a career like yours?
Many paths can lead you to a career in the sea sciences. Find something that generates internal enthusiasm and then see how it applies to the adventure of a life in and around the sea. You won't be disappointed.
Expeditions
Andy participated in the following Ocean Exploration Trust expeditions: