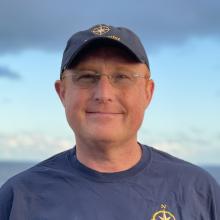 Andy Collins
Educator
Education Coordinator
Papahānaumokuākea Marine National Monument
Tell us about your work/research. What kinds of things do you do?
I oversee education and outreach programs for Papahānaumokuākea Marine National Monument and also manage our Mokupāpapa Discovery Center in Hilo, Hawaiʻi. I have been working for NOAA/Papahānaumokuākea for 20 years and have contributed to the increased protection and awareness of this special place through developing exhibits, curriculum, social media, films, imagery collection, public lectures, teacher workshops, and more. I have led and participated in several research and education missions to the Northwestern Hawaiian Islands and surrounding marine areas and have had the great honor to bring many educators and community leaders to this place. I oversee a team of educators that help to fulfill the mission of the monument, and I was extensively involved in our World Heritage Designation. I have participated in one previous deep-ocean expedition aboard Schmidt Ocean Instituteʻs R/V Falkor exploring the Mid-Pacific Seamounts and Necker Ridge during their Bridge or Barrier expedition and look forward to learning more during this expedition as well as sharing with students and the general public.
What sparked your initial interest in your career?
I grew up on the East Coast of the U.S. in Long Beach, NY, and was only a few blocks from the ocean. I spent my childhood at the beach, or in the marshes and developed a deep love for the marine environment. I wanted to go to study marine science in college but was dissuaded from doing so by High School career counselors due to the lack of jobs. I did study biology and ecology in college but not marine science. As fate would have it, after years of meandering through careers, including the Peace Corps in Nepal, I ended up in my original field of interest in my work with NOAA and Papahānaumokuākea. My current career allows me to explore and share my passion for marine science and learn as much as I can. It is such an exciting time as people are learning more about the oceans and what is going on beneath the surface, and the tools for exploration are expanding rapidly.
Who influenced you or encouraged you the most?
I am of the Jaques Cousteau era, and his TV show was probably my earliest inspiration. I also had a great 7th-grade science teacher who formally introduced me to the world of science.
What element of your work/study do you think is the most fascinating?
I love sharing what I learn with as many people as possible and utilizing all the available tools to do this. I am also very fortunate to join some of the exploration expeditions to these unique places and be a part of discoveries in real-time. Finally, I get to work with some pretty amazing and creative people who really care for the ocean and the Earth.
What other jobs led you to your current career?
All of my previous jobs have provided skills I use today in my work. Prior to joining NOAA I worked as a Systems Analyst and Webmaster with the State of Hawaiʻi Dept of Land and Natural Resources. I used skills from that job to serve as the IT lead for the monument, and also to set up our server, network, data management, and website in addition to education. My time in Nepal in the Peace Corps taught me how to work within another culture and appreciate their way of seeing the world, and this has helped a lot in working with Hawaiian communities and our cultural programs. Even my early employment years working in food services has come in handy from time to time - every ship needs a dishwasher!!
What are your degrees and certifications?
1991 Dual Bachelor of Science in Forestry and Forest Ecology from SUNY College of Environmental Science and Forestry in Syracuse, NY.
What are your hobbies?
My wife and I have a small farm on the slope of Mauna Kea on Hawaiʻi Island with over 100 animals and this consumes most of my time when not working. We have goats, tortoises, sheep, turkeys, chickens, peacocks, turtles, bees, dogs, and a cat. If I have free time I like to play guitar, hike, kayak, dive, snorkel, and read.
What advice would you give someone who wants to have a career like yours?
Follow your passion. If you know what you want to do, just do it, and donʻt let anyone talk you out of it. You will find a way to make it work. And if you get lost, itʻs quite likely you will end up there anyway. I would also strongly advise you to volunteer for organizations of interest, and to take internships, etc. Find a good mentor.
How did you get involved with the Ocean Exploration Trust?
As the Education Coordinator for Papahānaumokuākea, I was offered the opportunity to join the expedition that is exploring this area and to be part of the science communication team. I also serve in the role of Resource Monitor to ensure all aspects of the permit for research activity in this area are followed and answer any questions that may arise.